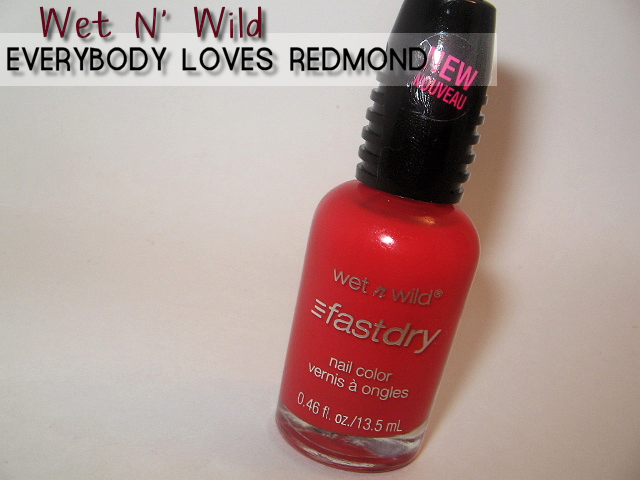 PRODUCT(S)
Wet N Wild's FastDry - Everybody Loves Redmond
AVAILABILITY
2011 Limited Edition item but I have seen some older LE FastDry randomly at local drugstores.
Suggested Retail Price: $1.99
COMPARISON
Have not done comparable swatches.
OVERALL THOUGHTS
I hardly ever do manicures because of laziness and last night I decided to paint the nubs and just randomly selected from my FastDry stash because I couldn't be bothered with waiting on them to dry.
Everybody Loves Redmond
is a bright tomato-red, but at times can appear a red-coral. I didn't think much of it when I selected it but upon wearing it, I've grown to really love the shade. Especially in the sunlight when it takes on the red-coral appearance. The formula is jelly and very thin. Application was semi-opaque and easy to layer on, I only applied two layers and there was still a bit of nail-bed visibility. With perhaps three or four layers it would achieve maximum opaqueness but I was personally satisfied with two.
I put no base nor topcoat on my nails so for chipping time, on my dominant hand, I saw chipping on the corners within a day. On my non-dominant hand it's been going strong for two days. Topcoat is definitely needed to prevent chipping.
As for the drying time, I say it dried fairly fast - around 5 minutes with both layers on (I have had other polishes within the FastDry line take a long time to dry) and I let them be for another 15 minutes. The first coat did dry up pretty quickly, the layering did slow down the drying process though.
All in all, a really beautiful shade for this Spring & Summer time for one on the go.
SWATCHES
What do you think of the FastDry line - any personal favorites?
CELLY
*DISCLAIMER: Products provided were sent for review consideration to MakeupByCelly. This does not alter my personal opinion on said products.