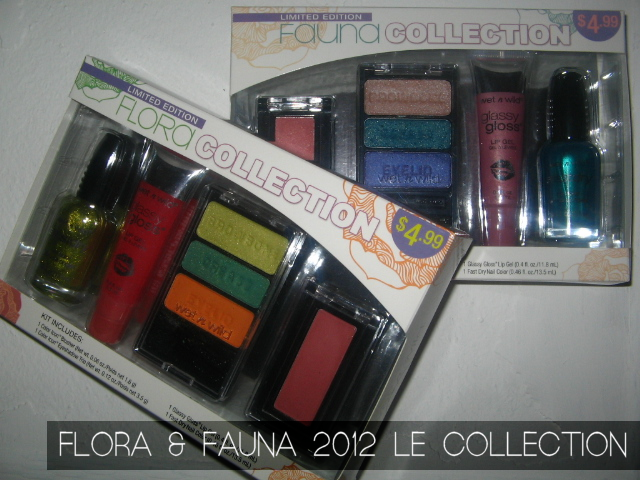 Flora & Fauna: Get the Look Collections
Available in selected drugstores Mid-March 2012
Suggested retail price: $4.99
I looked through my own WNW stash and haven't found a shadow that were similar to each one apart from the pale, champagne pink "browbone" in the Fauna trio shadows which had many comparable shades. Read more in Overall Thoughts for other comparisons.
Enter our lush gardens of beauty, fantasy, and desire. 2 flourishing collections in playful and seductive shades that evoke Spring's infinite possibilities.



Each Get the Look Collection Includes:
1 Color Icon™ Eyeshadow Trio
1 Color Icon™ Mini Blusher
1 Glassy Gloss® Lip Gel
1 Fast Dry Nail Color
Flora


Flora Eyeshadow Trio
- Chartreuse Green, Seafoam Green, Bright Orange w/ more yellow undertones
Mellow Wine Mini Blusher
- Brighter Rose color
Mow the Glass Glassy Gloss -
swatch here

Twining Vines


Fauna


Fauna Eyeshadow Trio
- Champagne shimmery pink, Shimmery Teal - more blue based, Shimmery Lilac
Pearlescent Pink Mini Blusher
- Soft Rose with hints of gold shimmery
Glass Confusion Glassy Gloss
-
swatch here
Teal or No Teal Fast Dry Nail Color
OVERALL THOUGHTS
I just received these today in the mail and oooo it was a nice surprise. Both are due this month and they are limited edition along with a few other LE displays. It comes in a cute designed package with a new eyeshadow trio and additional perm items such as a blusher, glassy gloss and fast dry nail polish. Pretty good deal for only $5. Fauna to me is more on the cool tone side (not saying it is but appearance wise) compared to the warmer, yet brighter, Flora set. The gloss, nail polish and blush all compliment the eyeshadows which I didn't notice until half-way through swatching - you can tell they gave a bit of thought into this.
I actually would have LOVED for them to use a Mega Last lipstick and nailpolish instead of the Glassy Gloss & Fast Dry. I think that would be a lot more appealing as those are their top sellers. The blushers on both these collections are divine! They swatched so easily and very pigmented. To me, they both looked very similar blended out - a different shade (like a fairer, soft pink) would've been best in the Fauna collection but I do really like both and plan on leaving one in my Travel makeup bag. To get into this further...
Flora
Is my FAVORITE out the two and I think would be easily sold out. All the shadows swatched easily and nicely pigmented. Oh, did I pray the orange would swatched nicely and it did. I like that it's not a true-orange, has a
slight
yellowish undertones but still very bright. The chartreuse green is that of MAC's Bitter except the texture is shimmery and ever-so-slightly powdery finish. The palette reminds me of oceanic colors, very islander - the Glassy Gloss given to this did not go well - definitely a lipstick would've been more appropriate for these sets.
Fauna
Just looking at it, it didn't
look
unique. I've seen them pairing eyeshadows like these for awhile BUT the Teal and Lilac purple are nice. The pale, champagne color was the hardest to swatch out of all of them followed by the Lilac purple. I did get the purple to show up though after several swatches and it ended up blending nicely - reminds me of MAC Parfait Amour. The winner of this trio is the Teal-Blue in the middle, it really is a unique blue in the WNW shadow collections. It reminds me a lot like MAC's Birds and Berries or Parrot eyeshadow just by looking at it (I will be doing MAC/WNW comparison post soon - don't fret) so I thought that made up for the lack of
uniqueness.
I can't entirely knock this collection down though, because in terms of the other three items - Fauna all the way!
RECOMMENDATIONS
I recommend Flora out the two - it had an overall better quality and uniqueness. If you're looking more towards the blushers, glassy gloss and fastdry - then the Fauna collection is your best bet.
SWATCHES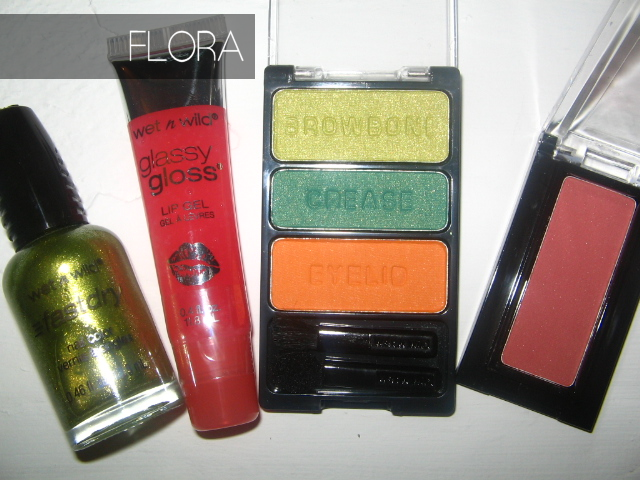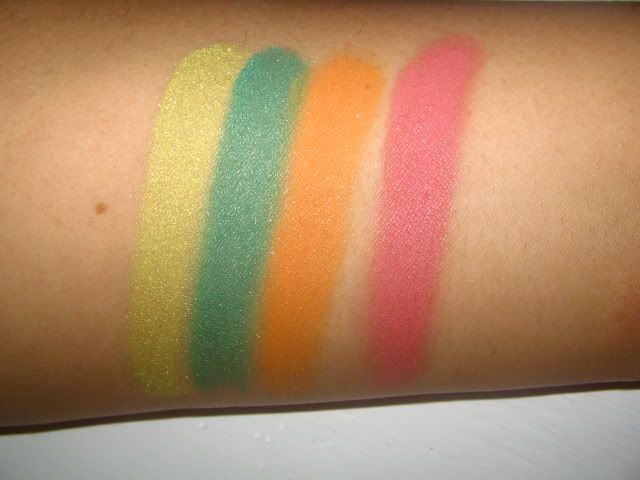 [L-R] Flora Trio Shadows; Mellow Wine Blush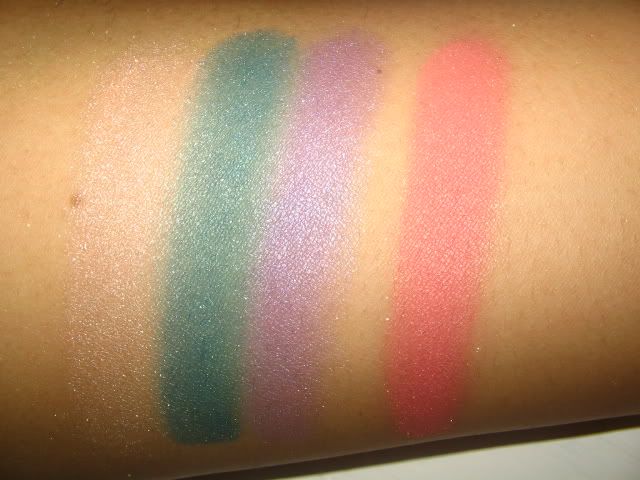 [L-R] Fauna Trio Shadows; Pearlescent Pink Blush

What do you think of these products - able to spot them at your local store?
CELLY
*DISCLAIMER: Products provided were sent for review consideration to MakeupByCelly. This does not alter my personal opinion on said products.