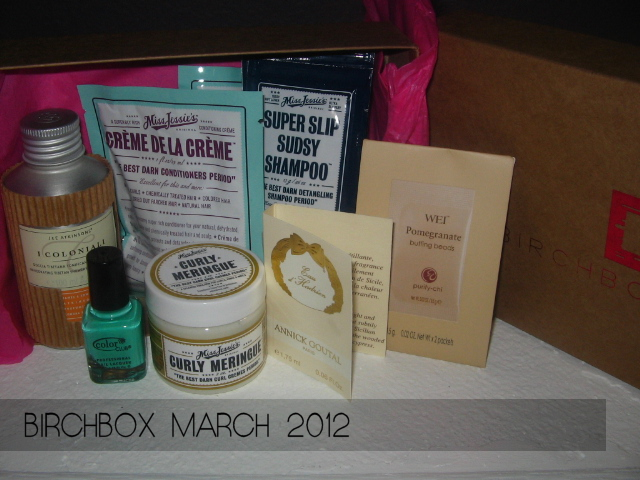 REALLY BELATED, sorry.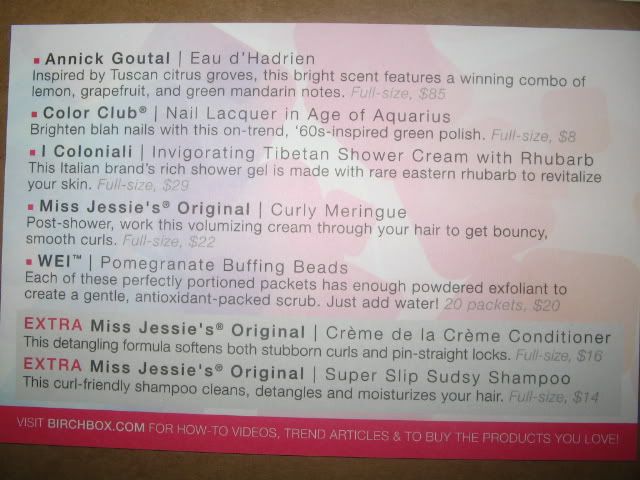 AVAILABILITY
Only ships to United States territories & APO boxes in the beginning of each month.
You can sign up here:
Birchbox.com
Pricing: $10 monthly recurring payment or $110 for an yearly subscription.
COMPARISON
My Pretty Pink Box (out of business), Glossy Box, MyGlam Box - to name a few.
OVERALL THOUGHTS
About Birchbox
If you're unfamiliar with BirchBox - it is a monthly subscription to try out beauty products (hair, skin, makeup, health) based on your personal assessment. You're given up to 4-6 sample items, sometimes even full sized items - all for $10 a month with free shipping. If you liked the product, you can then directly purchase the full item off of their site. It's really great for those looking to explore and try new brands. I had cancel this for about 4-months due to tight on budget, really happy I reopened it and considering a yearly subscription.
My personal advice, because obviously everyone lusts over that one box that has the best sample, be honest in your self assessment. It pretty much caters to you. For example, it asked what my hair is - I'm not gonna click straight and fine just to get a top notch brand. It's curly, dull and dry - I want things that cater to that as you can tell from my box. Same with makeup and skincare. I like that all the samples I have gotten were of use to me because it was selected for me based on my assessment.
One thing I'm somewhat annoyed is how late the boxes are arriving to me now than my first-time subbing. Before I remember my shipments arriving within the first two weeks, usually by the 12th I can expect my box. Now, my box arrives much late into the month - this March box came to me around the 23rd. I don't know if it's because of the up-rise of subbies they have now but I would have better piece of mind if they used a better delivery services as UPS tends to be lackluster in tracking in my own experience.
MARCH 2012 BOX
As for the March 2012 box items, this has to be one of my favorites because I'm really into hair treatments and just started getting into things for my curly hair (I tend to buy products for hair straightening), low and behold I got a bunch of Miss Jessies products.
I have only tried the
Curly Meringue
cream which came in a pretty hefty sample jar and thus far I am really liking it for my curls, smells wonderful! I'm a fan of fruity-sweet smells and it lingered for quite a bit. It left my hair fairly hydrated and kept the texture without feeling brittle or sticky.
And the only other product I have tried is the
Color Club
nail laquer in Age of Aquarius - holy crap that polish didn't chip on me for over a week and with no top coat. The color was surprisingly suitable for my skin-tone, don't know if they matched up shade to skin-tone but it worked out for me. I'm definitely looking into that brand in the future.
I haven't tried the other products yet, normally I would have a thorough review on each item but I like keeping steady on one product for awhile before switching things up. And how awesome that they included double of the sample Miss Jessie packs? Definitely an awesome box. I just saw a preview of my April box - very pleased, can't wait to receive it...
Apart of Birchbox - did you get a good box, or apart of any other monthly services
?
CELLY