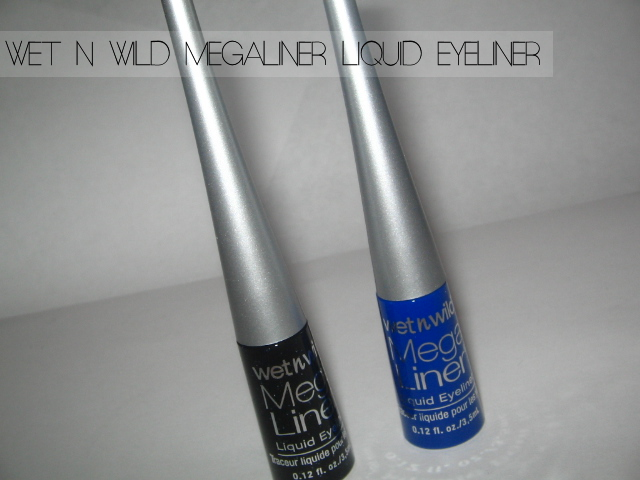 PRODUCT(S)
MegaLiner Liquid Eye Liner available in
Indigo Blue
Black Sparkle
AVAILABILIT
Y
Available at mass market retailers nationwide beginning February 2012.
Suggested Retail Price: $2.99
COMPARISON
Comparable to WNW older Liquid Eye Liner. L'Oreal has a similar product and so does NYC Cosmetics.
IN DETAIL
This classic is formulated with high definition pigment and a unique blend of polymers for a rich, fluid formula that dries fast and stays put to subtly enhance or dramatically define. An easy-to-control flexible brush delivers precise application. Smudgeproof.
Blue Indigo
- a bright, royal blue with very faint shimmer
Black Sparkle
- a blackest black shade with silver sparkles
OVERALL THOUGHTS
I tried this MegaLiner in Black last year and didn't like it at all because the felt-tip wand was hard stiff, don't know if it was just mine but it didn't have any give to it so it hurt to actually put it on (think applying liner with a toothpick that had a thin felt over it) - I was hesistant to try it again. I don't know if it's the color or they actually made it different but these were a huge improvement in the felt-tip. It had a little give but was soft enough to apply with the stiffness to control the line. Love!
The colors and pigmentation are great, that didn't falter with the "old" or "new" liners. The blue (although the swatch looks faint) is actually REALLY bright and the black was very opaque on 2 steady strokes. The glitter is there, faint but noticeable - I actually liked it, to spruce up a look or if wearing grey/silver shadow - this liner would compliment it really beautifully.
As for staying power, they both wore on throughout my day (minimal 6 hrs work shift) and would wear on if you don't have a habit of accidentally rubbing your eyes (ahem, raises hand in guilt). These aren't water-proof, mind you - so with water they easily came off with a slight stain (black sparkle having the more difficult removal time) so if you have a naturally oily crease/lid - this might wear off. But I haven't had that problem (just me rubbing it off accidentally) and with makeup removal, staining was very minimal to non-existent.
RECOMMENDATIONS
To anyone on a budget and like liquid felt-tip wands with a bit of "stiffness".
SWATCHES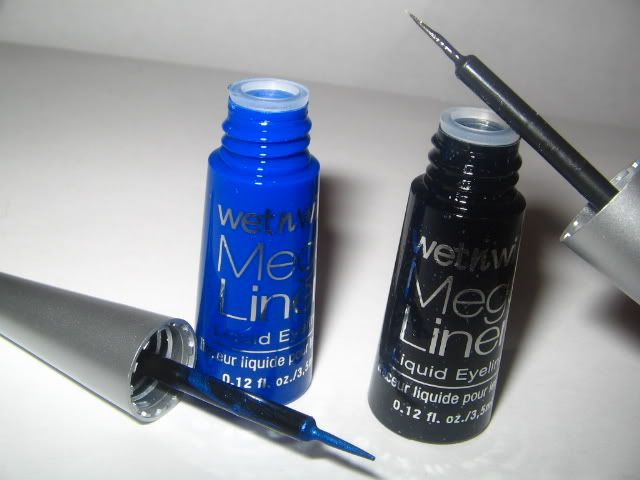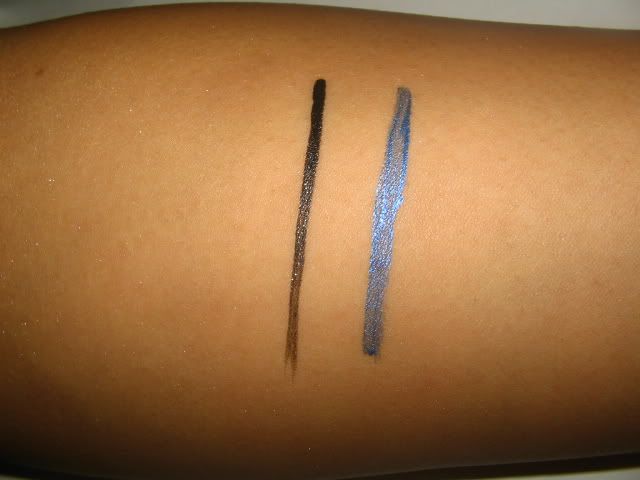 What do you think of the products - any rants or raves?
CELLY
*DISCLAIMER: Products provided were sent for review consideration to MakeupByCelly. This does not alter my personal opinion on said products.