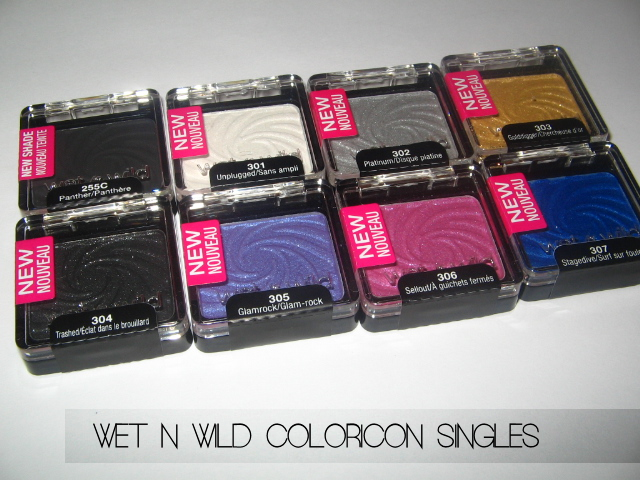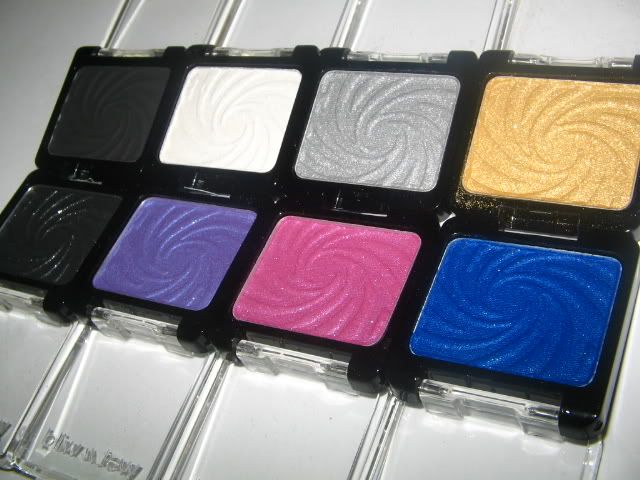 PRODUCT(S)
Color Icon Shimmer Singles in
Unplugged
Platinum
Golddigger
Trashed
Glamrock
Sellout
Stagedive
Color Icon Eyeshadow single in
Panther
AVAILABILITY
Available at mass market retailers nationwide beginning February 2012.
Suggested Retail Price: $1.99
COMPARISON
Wet N Wild's 3, 6, 8-shadow palettes are the same formulas. These are just in single shadow form.
IN DETAIL
Eyeshadow single has jet-milled base and silicone technology that provides longwearing, stay-true color for hours of crease-resistant wear. Blends well and applies evenly.
Panther
- a satin semi-matte, black shadow
Shimmer singles features intense sparkle, bold fade-proof color and silk-smooth shimmers that stay put for hours with no fallout.
Unplugged
- a stark white with light shimmer
Platinum
- platinum shade with light silver shimmer
Golddigger
- a pale yellow with gold shimmer
Trashed
- black shade with silver shimmer
Glamrock
- a lilac shade with silver shimmer
Sellout
- a pale fuchsia shade with light shimmer
Stagedive
- a bright blue with silver shimmer
OVERALL THOUGHTS
I never purchased the single shadows from WNW because they were similar in color to their pans so to my delight I received these new shades and they deliver the same quality as their palettes too. Wet N Wild really, in my opinion, is the best drugstore brand for high quality eyeshadows and for such a cheap price. Better than NYX, which I use to hoard back in my early stages of makeup collecting.
These single shadows all performed well, most only required about 2 to 3 swatches each for opaqueness, Golddigger, Glamrock and Sellout are more on the sheer-side but when it comes to those colors they often are sheer, don't know why that is - I'm guessing that's their intended color payoff but they swatched on easily so I'm sure to reach desired color intensity won't be much. Although I wasn't a fan of Golddigger overall (baby chicken yellow - not my fav color at all lol).
Not a fan of shimmer but these weren't heavy on shimmer, although you do see it when applied, it's not a glitter bomb and they all have satin to semi-matte finishes which I like. Unplugged, Platinum, and Golddigger can all slightly lean towards frost-type of finishes but barely, I was really happy Unplugged worked well for a white shadow. Sometimes the white shadows can be a hit or miss for WNW. The shimmers do stay for quite a while and I didn't really experience fallout, blending was good - these shades had no undertone colors so no muddy effects if continual blending occurs.
RECOMMENDATIONS
For something versatile, I would pick up Panther or Trashed because black is a good option and these two are very pigmented and also Unplugged for a white color. If I HAD to choose three of their new shadows it would be: Platinum, Glamrock and Stagedive. Stagedive is a gorgeous blue (I love their blues) and if you don't have anything similar, it is a great color - very bright and opaque. Glamrock had good color payoff so for those who like soft lilac/violet shades this one is really pretty. Similar to MAC's Parfait Amour. And Platinum is just an awesome silver color, I like how true to platinum it looks.
SWATCHES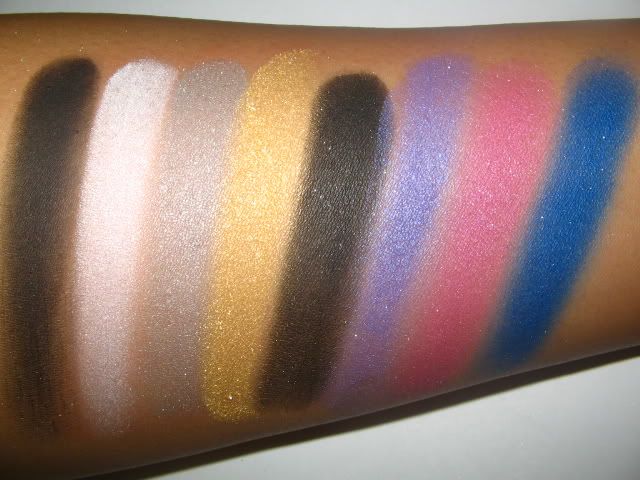 [L-R] Panther, Unplugged, Platinum, Golddigger, Trashed, Glamrock, Sellout, Stagedive
What do you think of the products - any rants or raves?
CELLY
*DISCLAIMER: Products provided were sent for review consideration to MakeupByCelly. This does not alter my personal opinion on said products.