PRODUCT(S)
MAC Azalea Blossom Blush Ombre - Daphane Guiness Collection
MAC Redhead Mineralized Skin Finish - Naturally Collection
AVAILABILITY
Both products are Limited Edition. Some MAC stores may still have it (mines only carried Blonde MSF currently).
COMPARISON
MAC Azalea Blossom's purple shade is comparable to another limited edition blush - MAC Sakura. See swatches below.
OVERALL THOUGHTS
It took a lot of thinking, but thankfully I caved in and bought both blushes because they are amazing!
Especially
Redhead
(thanks
Jillian
for your photos, really sealed the deal) since I now wear it everyday and it definitely is my favorite MSF I currently own. It's beautiful for an everyday highlight that can be worn alone or on top of peach, bronze, orange or other warm blushes. There are four separate shades from champagne to a coppery-brown. It has a slight pink undertone to it which makes it more wearable for those of olive and deeper complexions. The shimmer is at a minimal, all you're really getting a beautiful warmth to the skin.
I like
Azalea Blush
because of it's Ombre effect, lol not going to lie - it's beautiful to look at. I wasn't going to get it initially because I read how similar it was to Sakura. I love Sakura Blush so I thought to myself, I prefer a blush similar to one I love - that way I would definitely wear it often. I would say it is somewhat like Sakura as in the purples are similar to each other but not at all a like, also the pinks bring different overal aspects to one another. Azalea is a more toned down version and not as vibrant, blended together it definitely leans towards the soft pink side with a slight purple undertone while Sakura is more purple with an undertone of fuchsia.
Only thing is that Azalea is a bit hard to get on the brush, personally I don't mind because I prefer layering on as oppose to carefully avoiding a heavy hand but it still can be a nuisance as it takes a few pan swirls to get a decent amount of the brush.
If you missed out on either one, it's a good compromise!
RECOMMENDATIONS
REDHEAD MSF
- Warm Undertones is more suitable but it can be nice for those in the cooler family if using the lighter shades or on top of a complimentary blush.
AZALEA BLOSSOM BLUSH OMBRE
- Those with cooler complexion is best. I'm warm and caramel skin tone and found it working just as fine, the purple shade helps balance the coolness of it.
SWATCHES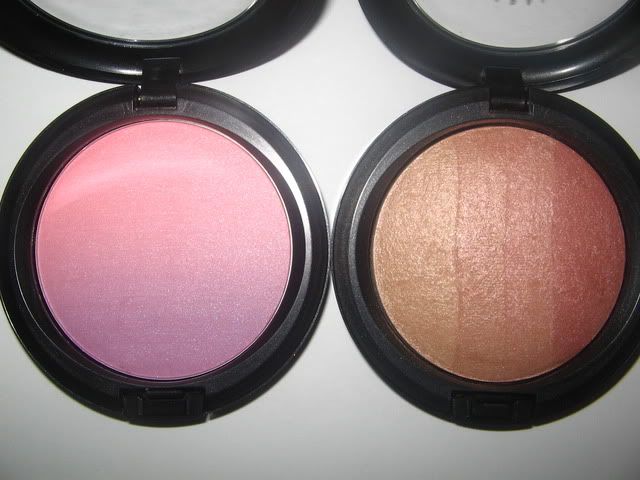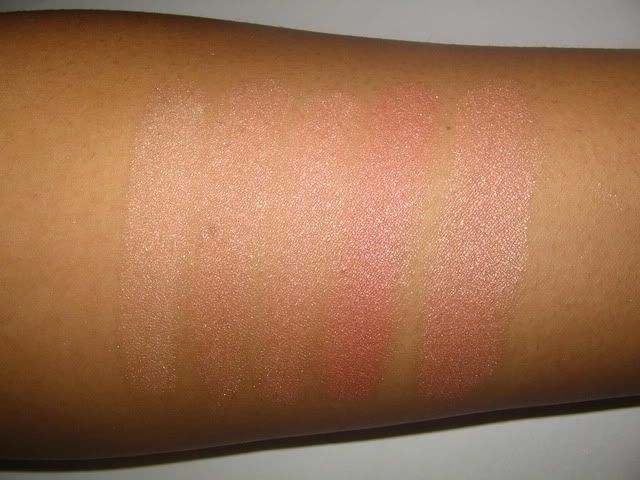 MAC Redhead Mineralized Skin Finish. First 4 on the left - Individual swatch. Far Right - blended together.
[L-R] Azalea Blossom, Sakura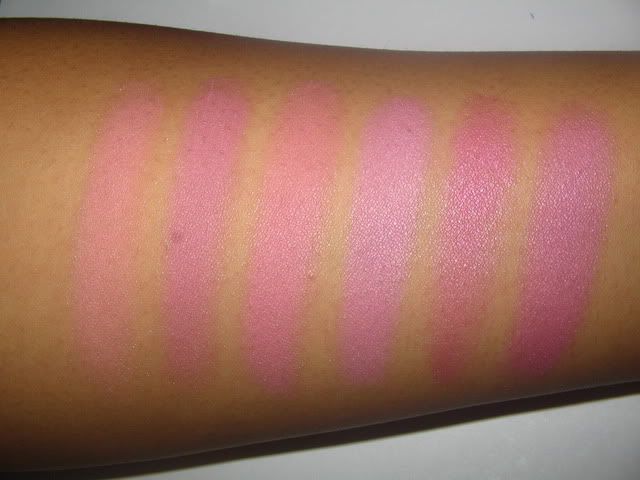 [First Three (3) on the Left is Azalea] Pink section, Purple section
,
blended together
[Last Three (3) on the Far Right is Sakura] Purple section, Fuchsia heart, Blended together
What are your thoughts - any personal favorites, rants, or other dupes?
CELIA
*PS: This is an old drafted post I made in January and completely forgot to post it, just an FYI in case someone wasn't aware this limited edition collection was sold some time back.