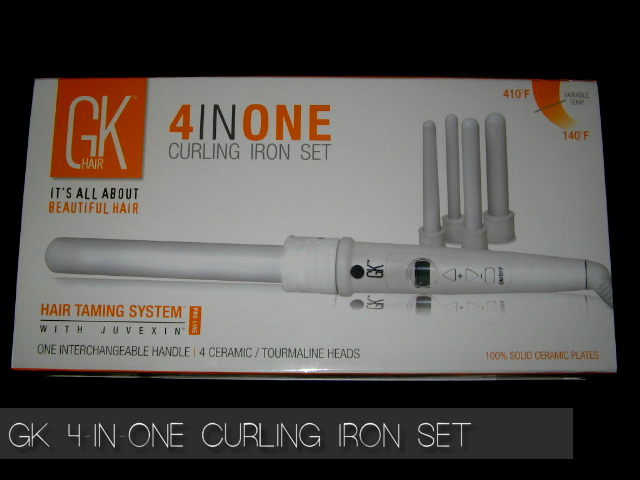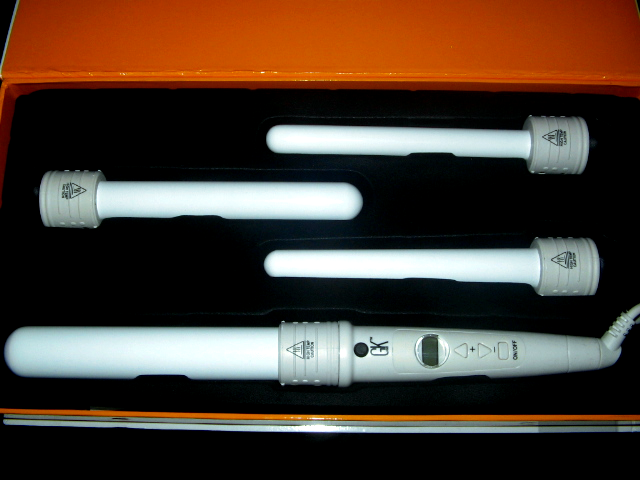 PRODUCT(S)
Global Keratin HAIR in
4-in-1 Curling Iron Set
AVAILABILITY
Available through Folica.com
GK HAIR 4-IN-1 Curling Iron Set
Suggested retail price - $198.00
Folica offers free shipping on purchases over $50
Refer to Coupon sites for additional savings -
retailmenot
COMPARISON
Check folica by clicking
here
for other Clipless Curling Irons.
IN DETAIL
Global Keratin 4-in-1 Curling Set is all you need for versatile styles with incredible curls or waves. Four inter-changeable barrel heads come in sizes 1/2', 3/4', 1 1/4" and 1 1/2". Also comes with a heat resistant glove.
-Clipless Curling Irons
-Adjustable heat, up to 430F/230C
-Ceramic/Tourmaline Heads
-Negative Ions to promote smoother, silkier hair
-Far-Infared Technology
-Swivel cord to prevent from tangle
There is one handle that fits all 4 barrels, the 3/4" barrel is the only one that is of tapered shape while the other three are round and all are clipless (meaning no clip to hold the hair in place.)

OVERALL THOUGHTS
I am SO loving set. I was really happy I was able to receive this for review. As a person who has natural curly hair, I never found it necessary to buy curling irons for the longest time but I was seeing all these YouTube video tutorials using clipless curling irons and my friends using theirs too and I HAD to try it. I like that it's more on the naturally-curly effect (depending on how long and which wand you use) to a nice variety of waves but like mentioned, all natural looking.
What I personally like about this product besides it's a 4 in 1, I like the way it heats up. Normally for flatirons, it either heats up on the spot when turned on or it takes awhile and indicated by blinking lights etc. or you move a dial to your temperature but you're not sure if it's the actual temperature. Anyways, since it's a digital display - the smart thing about this product is you actually see it rising once you turn it on until it reaches to it's desired heat, usually takes less than a minute to reach 360 (might be a dislike for those who are on a rush and can't wait for it to heat up quickly). Oh, and the turn on button must be pressed down a bit w/ force which in my opinion is good, no soft touch for accidental on/off.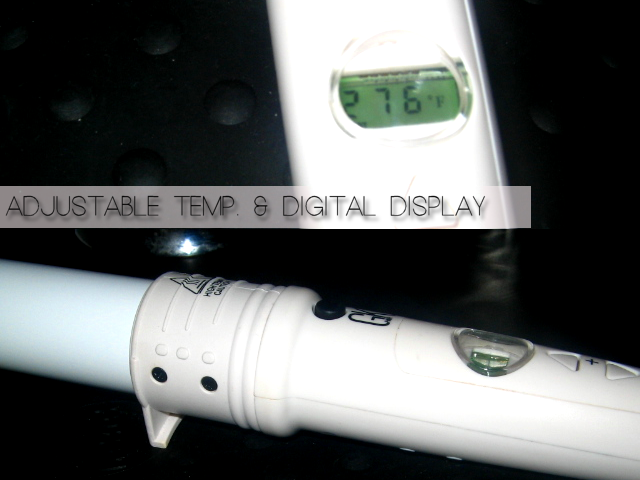 The only thing I really didn't like is how to remove the wands from the base, you have to push two buttons inward and then pull out but the pull is very hard and it hurts your fingers having to push the buttons in at the same time. I would get so annoyed by this process. And just to be a bit nit-picky, another glove would be idea - having to take it off constantly to do the other side got annoying as well - but I overcame the process by not using it period.
As for the results with the product, I have yet to use the smallest wand the 1/2 so it's being excluded from this review. Product was used on already straighten hair with argan oil for heat protection.
1 1/2 - as you can see in the photo below, it gives a nice, natural soft wave to my hair. Like, the "day after you curled your hair and slept in it" look - haha. I really like it for casual looks and works best for longer hair as the wand is pretty big.
1 1/4 - is the second larger barrel, this is like the 1 1/2 but the curls/waves are tighter. Still great for a natural, effortless looking style. Best for med-long hair.
3/4 - is the only tapered barrel, it gives very defined waves. I didn't see curls with this one because I believe of it's shape so I'm only guessing the 1/2 would end up being more defined curls than waves. Anyways, this one gives beautiful romantic waves as you can see in the photo below. It was hard to capture but because the layer of waves all fell randomly on top of each other, it ended up giving volume to the hair. Love! And the more popular type of clipless wand.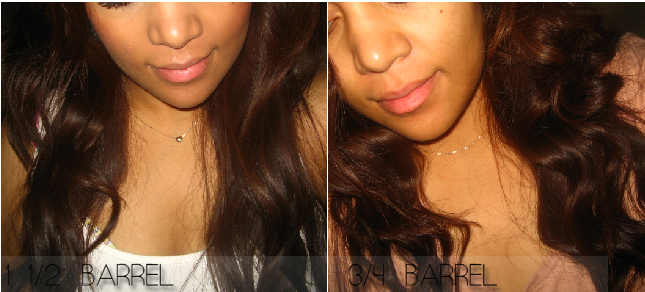 RECOMMENDATIONS
I recommend this set, but if it's too steep - like I mentioned above they have cheaper alternatives. If you're looking into one, definitely invest in the sets. You're getting your monies worth and I guarantee you'll enjoy at least a few of them and it's definitely great to have options. If I had to choose one, really it depends on what you're looking for - but I'd get either a tapered clipless wand for waves and probably my 2nd choice would be something of a round clipless wand in size 1 1/4 because it gave nice curls or soft waves in a natural but more defined wave.
What do you think of the product - do you own one, favorite way to style?
CELLY
*FTC Disclaimer: I received these products for free as a part of the Folica Review Program but the views and opinions are that of my own.