PRODUCT(S)
MegaSlicks shades in
Rasp-berry Voice
In A Tutu
Seedless Watermelom
Panning for Gold
Mauve-jave Desserts
AVAILABILITY
Will be available at mass market retailers nationwide beginning February 2012.
Suggested Retail Price: $1.99
IN DETAIL
Moisturizing lip gloss to add sheen on lips, Vitamins A & E and jojoba oil.
Rasp-berry Voice
- red with pink and golden shimmer/undertones
In A Tutu
- sheer, hardly any color - pink shimmers
Seedless Watermelom
- sheer pink, very faint color
Panning for Gold
- sheer, hardly any color - orange/golden shimmers
Mauve-jave Desserts
- sheer, hardly any color - pink shimmers
OVERALL THOUGHTS
LOL at my swatches down below. Womp. They are sheer glosses intended to add shine to your lips or on top of lipsticks so if you can decipher which is which without caption, be my guest haha. But in photograph you can't really tell the very subtle differences between each shade, it was hard to capture that but it really is difficult to capture sheer anything so...
I personally only own one clear gloss for the same intended purposes (to add shine to lipsticks) and these are good as a cheap alternative.They were fairly sticky but not to where you smack your lips together and it gets stuck - twas moisturizing, thickness, and as always the stickier it is - the longer lasting they are. The wand is a doe foot which I'm not a fan of because lipstick tends to leave a stain on it. The smell is of watermelon or strawberry, not too appealing - very drugstore smelling gloss (if you know what I mean!). I do like the shimmers it has, it gives a nice subtle glitter to the lips that isn't overpowering.
RECOMMENDATIONS
I'd recommend Rasp-Berry for those who want added red sheen to a matte lipstick or perhaps who wants a sheer red tint to their lips, the rest - I'd pick either one because they're all clear w/ very little variation. It's good to have a few selections in your collection in case you want to add shine to your lips without added color.
SWATCHES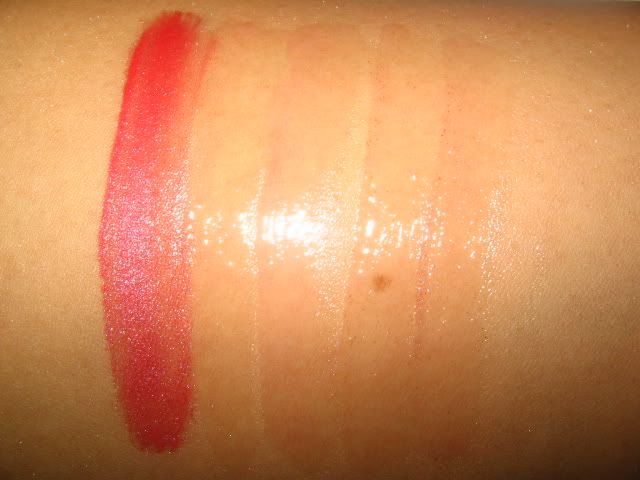 [L-R] Rasp-berry Voice, In A Tutu, Seedless Watermelom, Panning for Gold, Mauve-jave Desserts
What do you think of the products - any rants or raves?
CELLY
*DISCLAIMER: Products provided were sent for review consideration to MakeupByCelly. This does not alter my personal opinion on said products.