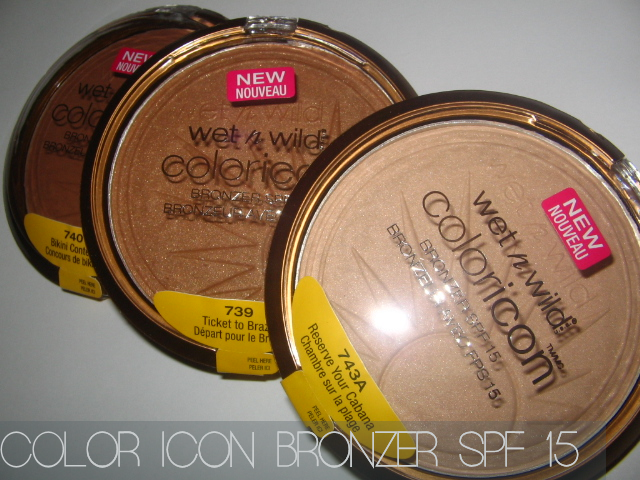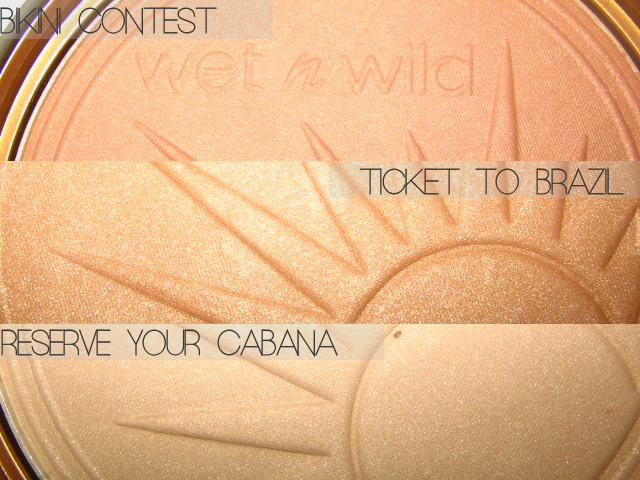 PRODUCT(S)
Color Icon Bronzer SPF 15
740 Bikini Contest
739 Ticket To Brazil
743A Reserve Your Cabana
AVAILABILITY
Walgreens & Walmart Exclusives
- should be available at mass market retailers nationwide beginning February 2012.
Retail value at $3.99.
IN DETAIL
Dermatologist-tested, Oil-Free, SPF Protection
.
Bikini Contest
is a warm copper-brown bronzer, the deepest bronzer in the collection. Brown with red and golden undertones.
Ticket To Brazil
is a true bronzer shade. Light brown color with golden undertones.
Reserve Your Cabana
is a pearl-like shaded highlight/bronzer with pink undertones.
OVERALL THOUGHTS
These are actually really good for the price. The texture is very smooth, velvet-like which reminded me of Milani's Bronzer I just purchased. All 3 bronzers in the pan have a shimmery appearance to them but when swatched, there wasn't much of a shimmer appearance but more satin if anyone is worried about a glitter-bomb on your face. It's very minimal and the satin sheen adds to the luminous glow.
Ticket to Brazil
was the only one that had a bit more shimmer than the other two.
I would've thought upon appearance that
Reserve Your Cabana
would swatch chalky but it didn't and when blended, had a nice iridescent pink undertone to it. For swatching purposes I did swipe it on a heavy than I would with a brush. I didn't find anything spectacular with
Ticket to Brazil
but I do personally like it because it goes with my skin tone and gives me a nice glow without being over powering or dark.
These aren't bronzers I would contour with though, because of the satin finish, but it's great to give the cheeks a flush of color and healthy glow. They're all very pigmented, easy to apply and the range on these three are suitable for most to all skin tones.
RECOMMENDATIONS
I personally really liked
Bikini Contest
because it was more on the pinky-side, so if I feel like wearing it alone as a blush it's passable. I think this shade is most suitable for tan to darker skin tones. And ladies, even women of color CAN wear bronzers - don't let anyone tell you otherwise. Even if it doesn't appear on your skin, the point being is that it gives you an added extra glow that looks sun-kissed!
For my fair-skin chicks,
Reserve Your Cabana
is best suited for you. On myself, it is too pale to pull off used alone. Although it didn't make me chalky, any skintone darker than mines might come across with that problem. You can however add it on top of your blush for added glow and soften a shade.
SWATCHES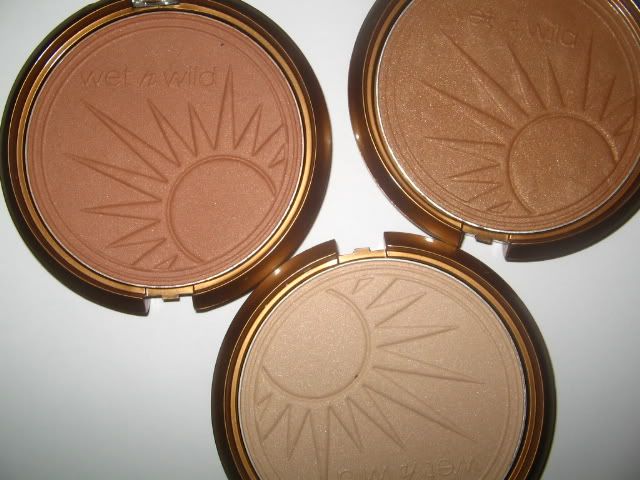 [L-R]
Bikini Contest, Ticket To Brazil, Reserve Your Cabana

Any of you guys have thoughts - rants/raves, got your chance to grab one?
CELLY
ps. Will be doing another giveaway next Wednesday (perhaps of something you just read lol) so look out for that! :)
*DISCLAIMER: Products provided were sent for review consideration to MakeupByCelly. This does not alter my personal opinion on said products.