Here is my small collective haul from the past two months of jewelry. Or JOORY as I like to say.
GOFAVOR
I saw the replica of House of Harlow necklace in Rai's
blog
(redirected link to Glam Morena) and said HELL YEAH I'm getting that cheap knock-off, psh what I look like? (besides a cheap person). And saw that she got them off
GoFavor
.
Anyways, for the most part the website didn't have many selections I personally liked, otherwise I would definitely would have hoarded a lot more than what's seen. Best thing besides the jewerly being cheap is that they offer free shipping with purchase of $15 or more. Shipping took about less than 2 weeks through China Post, fairly quick. Smell was a bit questionable but soon went away after airing it out.
I loved what I got, though. Mind you the 3-finger pyramid ring is not size adjustable nor does it give different size options. I normally wear size 8 in rings and these fit fine in all 4 fingers (minus thumb). And the necklace is a bit on the flimsy side, feels plastic as oppose to the good-quality Joory from Forever21 (joke!). Anyways, can't complain much because they're hella cheap.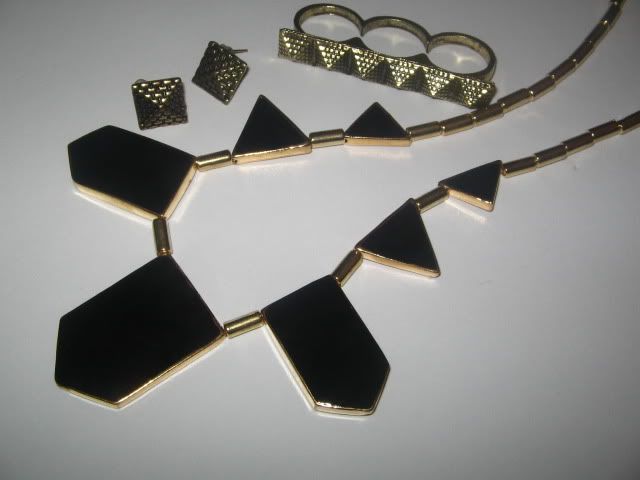 Geomtric Bib Necklace
at $7.99 - Shop
Here
Pyramid Three-Finger Ring
at $3.99 - Shop
Here
Pyramid Stud Earrings
- $0.99/50% off - Shop
Here
CHARLOTTE RUSSE
Charlotte always has a buy
2 for $10
jewelry sale - prices have to be between $5-6 to count.
I purchased the necklace last month (December) and it was still available at my location when I went back this past week. I really like the gunmental shade in
Joory
as just oppose to silver and gold, adds a bit of edge I suppose.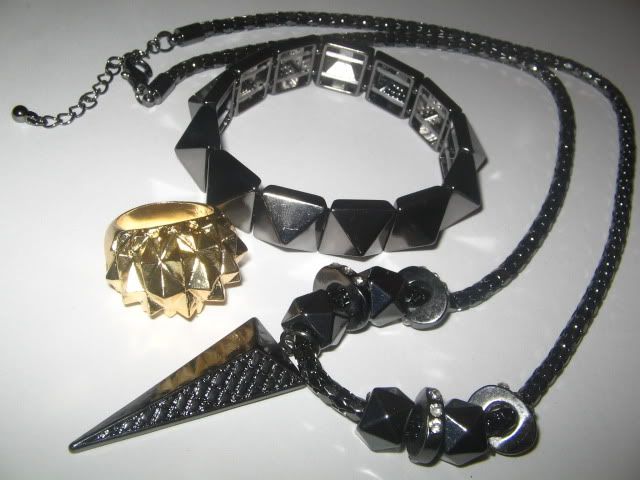 Forever21
I actually bought a lot more Joory late last year that I never posted but it wouldn't be worth mentioning because those items are long gone and out of stock. These two I got this past week.
I'm really into chained bracelets as they're easy to throw on but looks like a lot of bling-blang is going in this pimp wrist of mine. I found the orange chain randomly scattered (oh forever, how you bring nightmares to OCD neat freaks) and the necklace on a small display. The teal necklace is simple and colorful - but can be worn with almost anything casual. The perfect spring accessory without over doing it.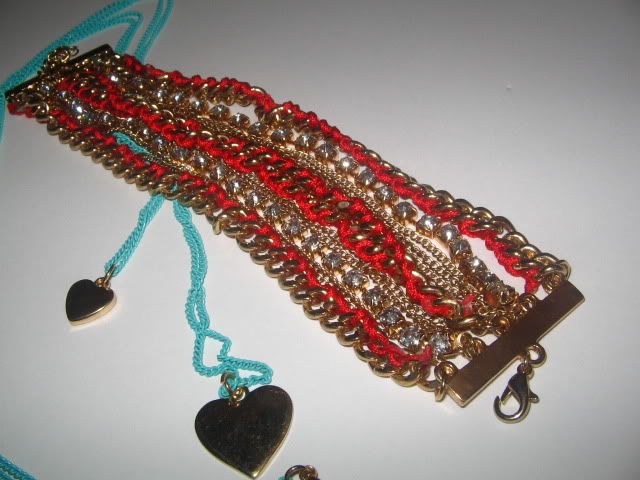 Emerald Heart Necklace
- $4.80 Shop
Here
You guys know any other similar JOORY stores/online sites that sales items on the cheap?
CELLY