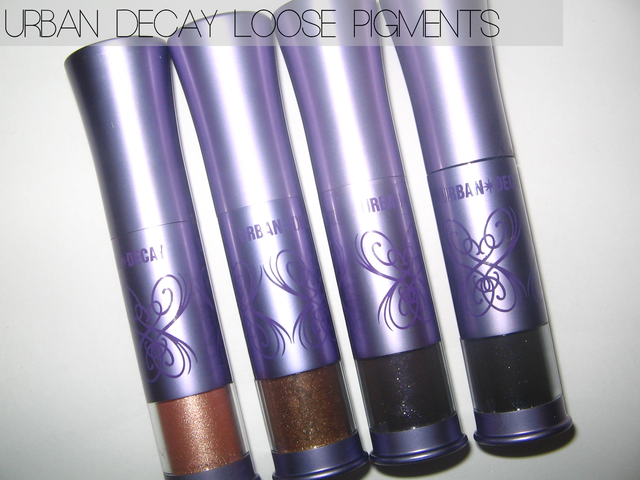 PRODUCT(S)
Urban Decay Loose Pigments in
Shag
Smog
Rockstar
Goddess
AVAILABILITY
HauteLook tends to sell these the cheapest at around $2-5 when a Urban Decay sale ever emerges. Otherwise at Urban Decay online site, in stores (Sephora & Ulta) might still carry these at retail prices ($20), not sure if they were phased out...
COMPARISON
In terms of product, it's similar to MAC Pigments although for price and product, MAC is much cheaper and contains more product than the UDLPs.

IN DETAIL
Shag
is a champagne shade, a golden pink mixture with a metallic finish.
Smog
is a golden, copper metallic shade - when blended the shade has a dirty brown undertone.
Rockstar
is a very dark purple with purple reflect shimmer.
Goddess
is a black shade with reflected shimmer.
OVERALL THOUGHTS
Well, I got these through my friend who bought them on the HauteLook sale and said she wasn't able to work with them. I happily snatched them away, hella *yoinked*.
I love the outer packaging, I think it's really cute, my favorite thing about Urban Decay but it is very impractical. Not a fan of the small opening and the brush accompanying (photo below) it as it's a bit challenging to get pigment out w/out creating a mess. I always get a mess. The best way to use this is getting a petri-dish and tapping a small amount out.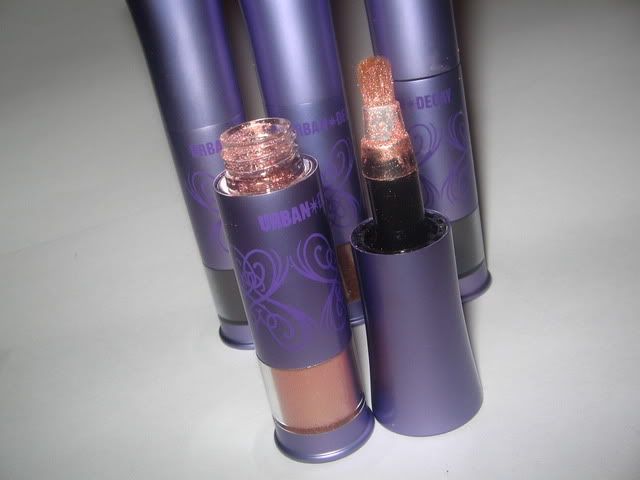 It's very pigmented and the ones I own worked well dry or wet (mixing mediums, water, etc.) Although
Smog
was a disappointment as it looked to be more golden in the container, blended it came out a dookie brown. Yes, dookie brown. But it maintained some of that golden copper so I'd probably advise to just pat on desired location and blend where you want darken.
Rockstar & Goddess
maintained their shimmer reflects when blended so that was lovely.
RECOMMENDATIONS
If you're able to get a hold of these on a HauteLook Urban Decay sale, I'd definitely snag them up if you never tried them. My personal recommendation shade is Rockstar because of the darkened purple and maintaining it's shimmer when blended plus also Shag for those who are into neutrals shades as it's pretty to use anywhere on the lid. Otherwise for full retail price, I'd skip and opt for MAC or mineral pigment sellers.
SWATCHES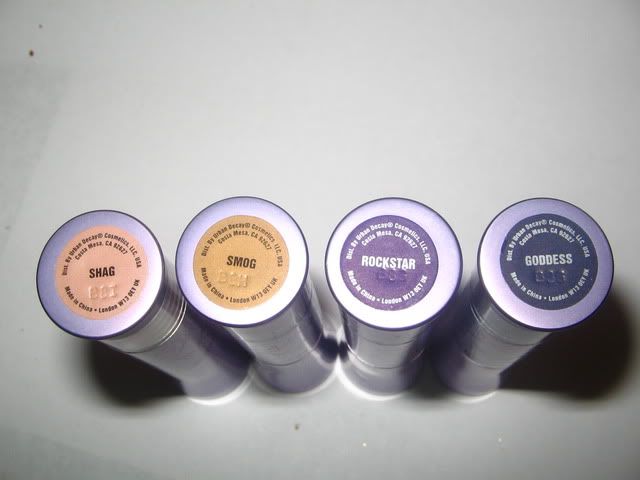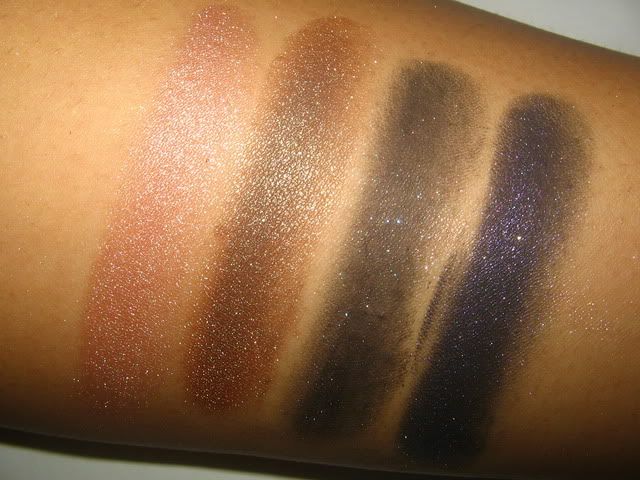 Shag, Smog, Goddess, Rockstar
- Dry


What are you thoughts on the Loose Pigments - any favorites or rants?
CELLY