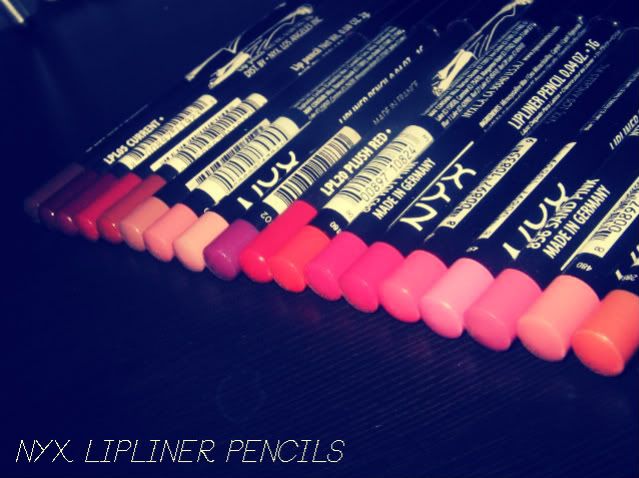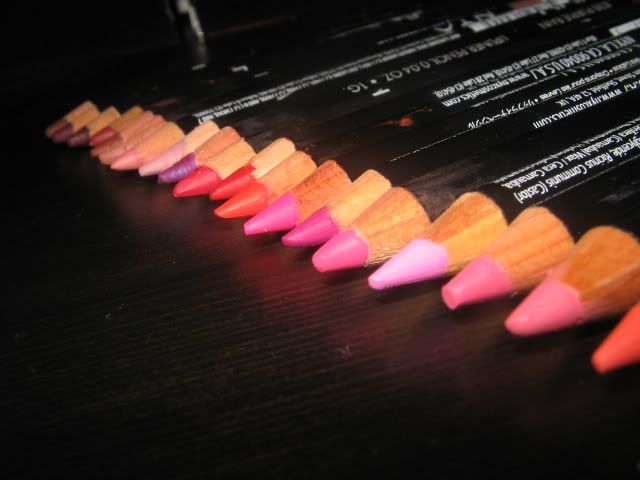 Here is my accumulated NYX Lipliner pencils that I have bought over time from different sources.
SWATCHES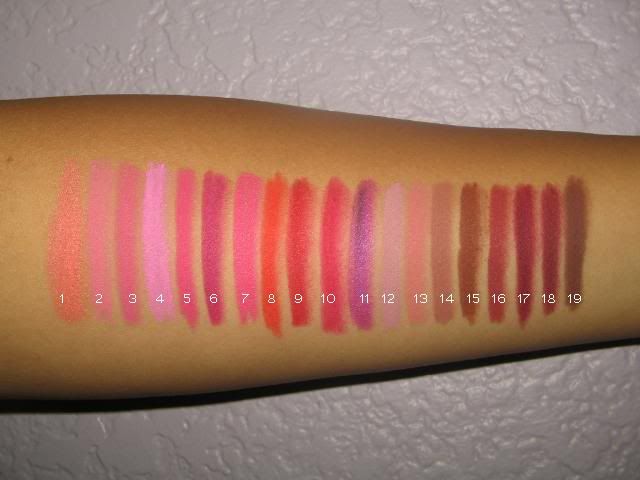 LABEL
1. 841 CORAL


2.

840 ROSE


3.

856 SAND PINK


4.

839 DOLLY PINK


5.

835 PINKY


6.

836 BLOOM


7.

854 HOT PINK


8.

824 ORANGE


9.

817 HOT RED





10.

LPL 20 PLUSH RED


11.

838 PURPLE RAIN


12.

854 PALE PINK


13.

858 NUDE PINK


14.

810 NATURAL


15.

LPL 06 COCOA


16.

LPL 01 AUBURN


17.

LPL 10 DEEP PURPLE


18.

LPL 05 CURRENT


19.

LPL 04 CAPPUCCINO


Close Up Images
(non-labeled)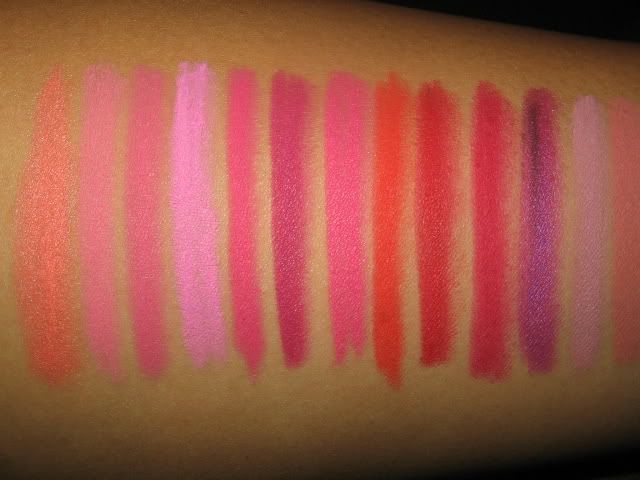 I own nothing but NYX pencils and I can say, when it comes to lipliners I prefer this brand over higher end brands such as MAC or Stila. With that said, they don't have the longevity as other brands (say, Make Up For Ever) but they're not claimed as long lasting. I get a good 5 hr wear for outer lining and about 8+ if lips are fully shade in with lipstick on top - less if I'm eating/drinking. Some of them do look similar to one another which is a gripe. The consistency is more on the matte side but they glide fairly easy. There's two textures I've seen, one being the matte, the other a satin. All but one (coral) have a matte finish. I totally recommend these for budget friendly beauty junkies.
Purchase
The long lip liner tends to run cheaper with fewer selections as oppose to the regular l/l, usually $1.25+, and the smaller sizes can start at $1.75+ each depending on where you purchase them from.
Where I've bought are
CherryCulture
, NYX official site,
Ulta Stores
and individual retailers/boutiques. But as a tip, I recommend eBay sellers - it ended up being a little less then CC even with their discount (unless it's an annual sale than I would recommend either NYX or CC). Browse around and add tax/shipping to see the best price.
Hope this was helpful.
Check on my follow-up post for comparisons liners and compatible lipstick shades.
CELLY