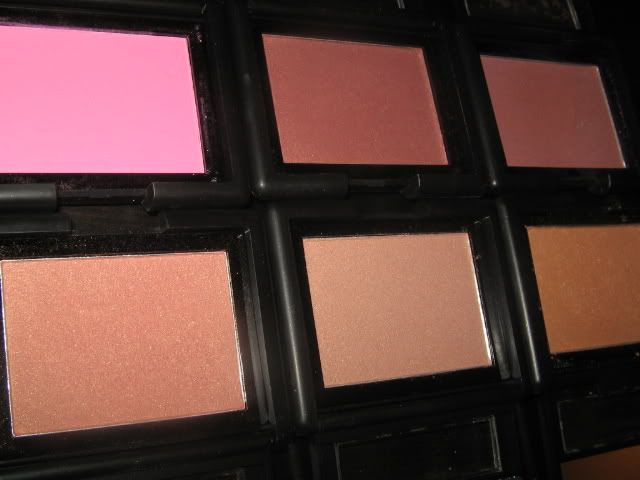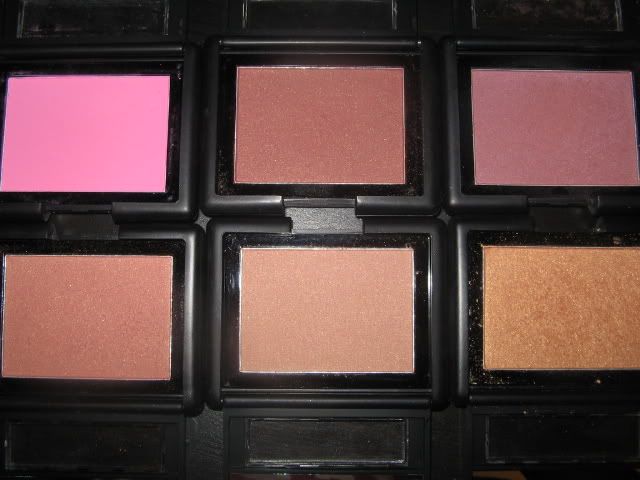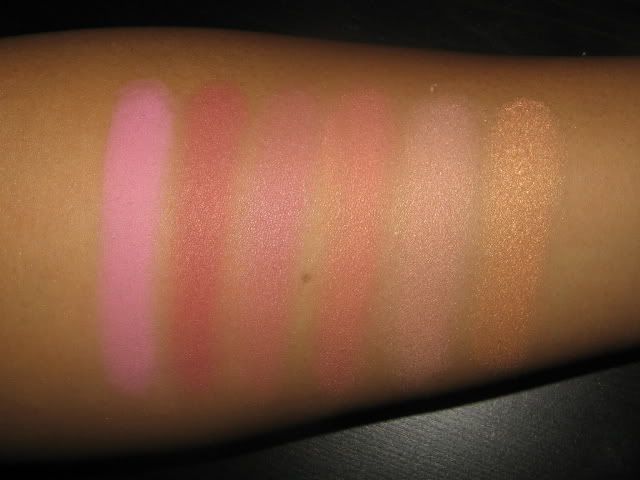 [LEFT-RIGHT]
Pink Passion
Blushing Rose
Mellow Mauve
Candid Coral
Peachy Keen
Giddy Gold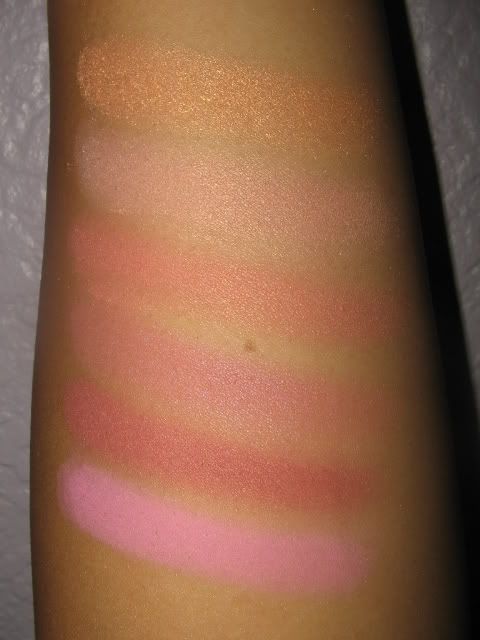 PINK PASSION -
Bright, baby pink shade that has a matte finish.
BLUSHING ROSE
- A deep, wine shade with a slight sheen of gold specks undertone.
MELLOW MAUVE
- Paler mauve color, slight sheen.
CANDID CORAL
- Deeper coral shade with gold specks and very slight berry undertone.
PEACHY KEEN
- Dirty peach shade, with gold undertones.
GIDDY GOLD
- Bronzer-like orange shade with chunks of gold specks.
Here is my small collection of the E.L.F. studio blushes I have accumulated over awhile. These are really good to have in a collection as they are inexpensive and have decent coloring. It takes a few brush swirling to get product on the blush but that's why I personally like it, as it doesn't give you a heavy hand and crazy amount of blush on the cheek. My go-to everyday blush is Mellow Mauve - LOVE IT! I use Giddy Gold to give a bronzer/highlight effect and Blushing Rose to contour a bit at times. I usually take one ELF blush for travel as it's tiny enough to fit anywhere. Product holds about 0.0097oz/2.75g so it's a decent amount.
They cost $3 each and are sold online or at Target. Online is your best bet on purchase because of all the crazy discounts they offer. Right now there's a 40% off offer all Studio line products using the code
STUDIO
. I wanna complete my little collection.
Anyone have opinions on this product, rants or favorites?
CELLY