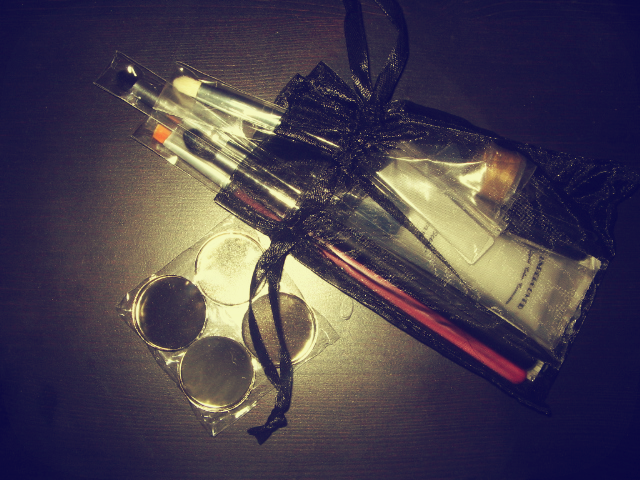 My Purchased Item
- Click for prices:
Liquid Color Corrector - White
Destiny Blender Brush
Precision Detail Brush
Small Pencil Crease Brush
Pink Angle Liner Brush
Magnetized Pans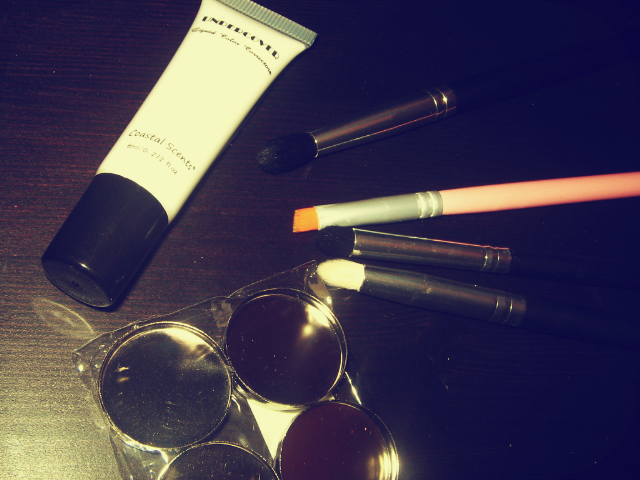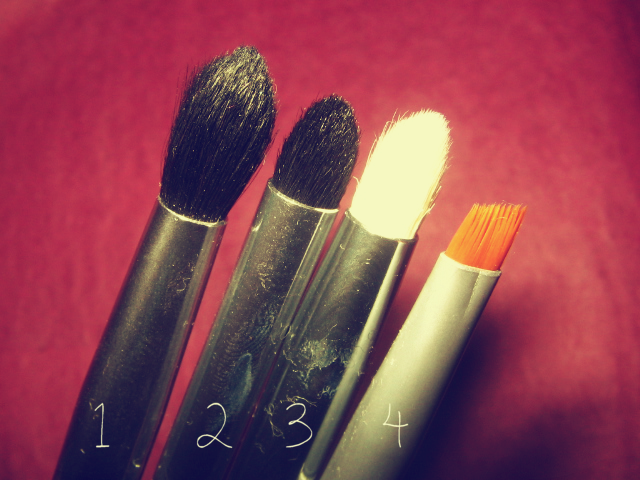 Brushes
1. Destiny Blender
2. Small Pencil Crease
3. Precision Detail
4. Pink Angle Liner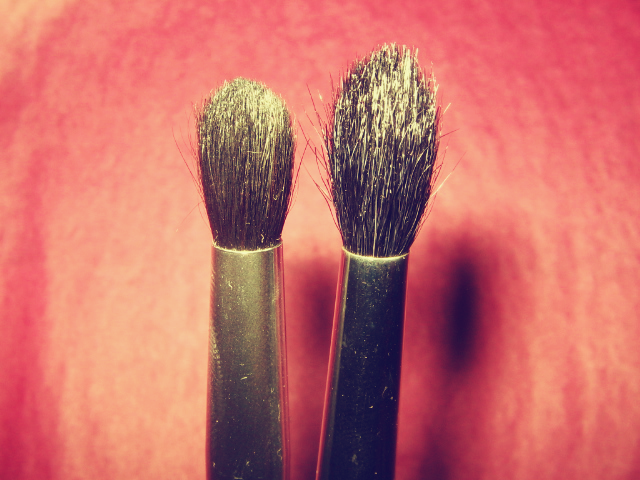 Destiny Blender
(left)
Compared to MAC 224
(right)
I wanted something similar to the the Limited Edition MAC 226 brush, which is a smaller version tapered blending brush to their permanent brush 224. This was the size I'd imagine, good for smaller creases and dense enough to blend. The bristles are a little more flimsy than the stiffer 224 which is the downfall only because it feels cheap (and it is literally) but still gives good blending which is the main importance.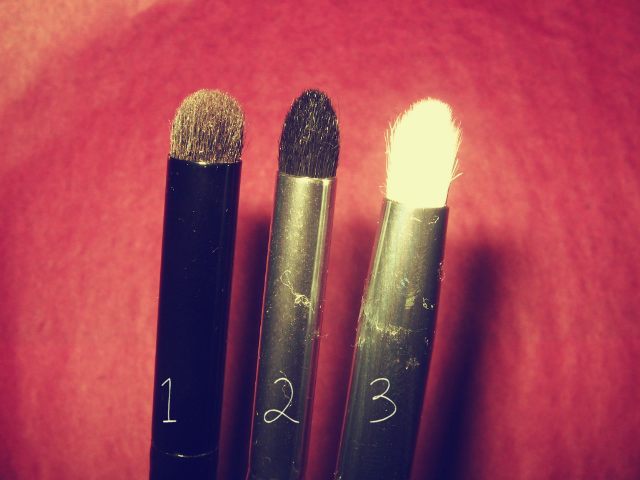 1.
ELF Crease Compared to
2.
Small Pencil Crease
3.
Precision Detail
Just a quick comparision to my smallest pencil brush - ELF, I don't own the MAC pencil brush but the Precision looks quite similar. The ELF brush is a dude to me, it's too round and short to get into the crease to make a sharp line for me. I really like both brushes I purchased, both are good pencil brushes and do nice in doing crease cuts. The precision is a little stiff but I don't mind it - it blends fine. The pencil is a little more softer - if anyone was looking to try either or, I'd pick both these up and try which you prefer.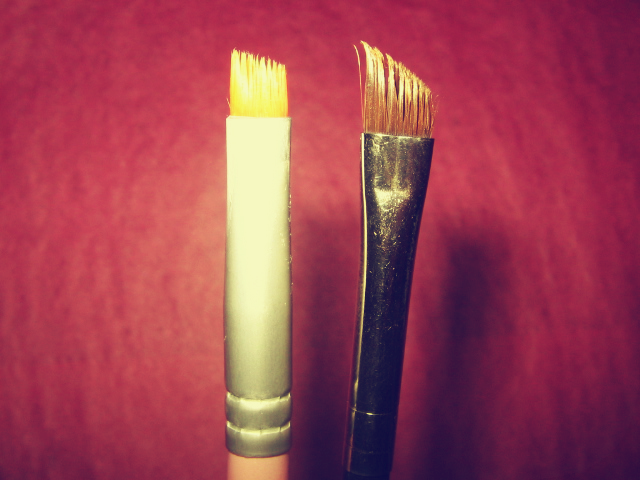 Pink Liner Brush Compared to MAC 266
I LOVE my 266 brush - I doubled it for eyebrow and eyeliner brush but I was getting tired of having to clean one to do my eyes after using it for brows so I was searching for a stiff angled brush that can do the same. The Pink liner works perfectly for brows, although not as thin as my 266 or as long, the stiffness is right. I haven't tried it for lining but it's a little thicker than the 266 so I probably wouldn't like it as much. I still much prefer my MAC brush though, just in terms of it being thinner but still happy with my purchase.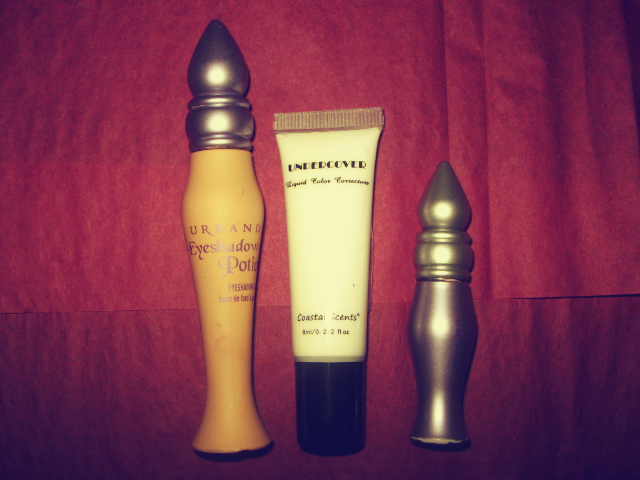 White - Liquid Color Corrector Compared in size to a full Urban Decay Primer & Travel Size
Liquid Color Correctors are so awesome! Coastal Scents has all the primary colors to choose from but I bought white to test it out. The white is use to lighted a shade's color - it's a neutral shade meaning it adds no color to it but just pale out the color. Next time I purchase from them I'll definitely pick up the black one too, that's to darken a shade. All you need is a small dollop with whatever product you need lighten (NARS foundation in my case)...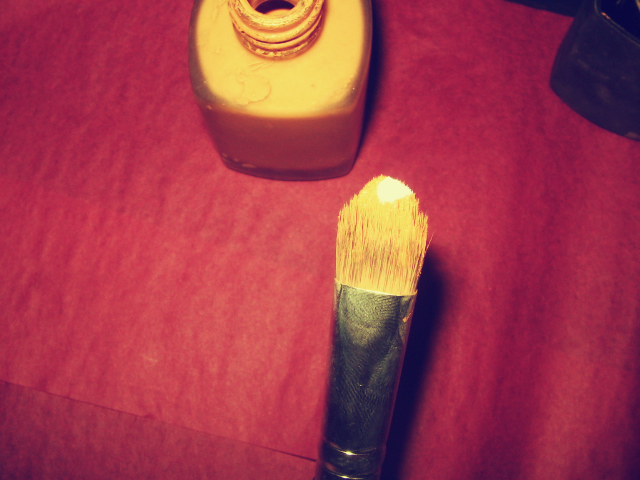 NARS Foundation Cadiz (true color form) - Mixed with the Corrector
The White Corrector itself and then blended underneath
I used my NARS foundation as an example. I have to rely on customizing foundation shades due to my skin's forever changing color and no foundation can match me perfectly without oxidizing or just not having it in my range so I opted to get the white corrector which in turns saves me money from me not buying 2 foundations and mixing them both up to get my desired shade. The more white you mix in the lighter it will be, same as with the black corrector (the more darker it'll get). This product is great to have in your kit.
I personally have not had any breakouts so far after my month of usage, the only thing is that the product is on the matte/dry side but majority of my foundations are on the dewy scale so it helps. I'd say it changes the formula of the foundation a bit but it doesn't bother me some because the color itself doesn't - in terms of it looking ashy. The amount of product you put is key, I do a 1:3 ratio - 1 part corrector, 3 part foundation and then mix on the back of your hand.
As for the magnetized pans, I've bought them before. Fits in MAC Palettes and good for pigment pressing.
Hope this was helpful - anyone tried the above products mentioned or anyone suggest other color correctors?
CELLY