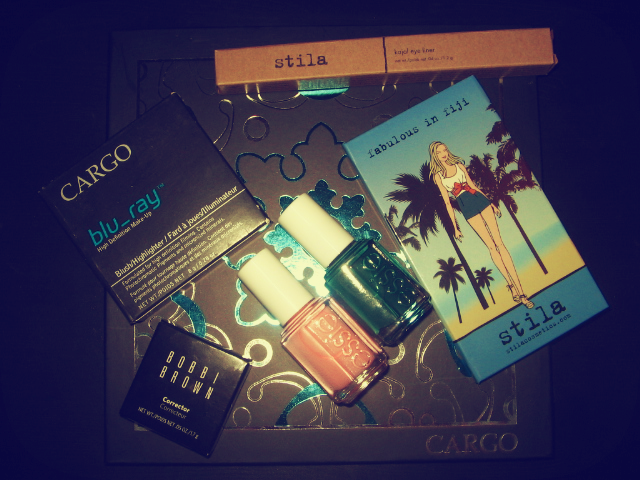 CARGO Blu-Ray Blush/Highlighter - Pink
CARGO Lumieres Du Monde Eyeshadow Palette
STILA Fabulous in Fiji Palette
STILA Kajal Eye Liner - Amethyst
Bobbi Brown Corrector - Medium to Dark Bisque
ESSIE Polishes - Going Incognito & Van D'Go (below)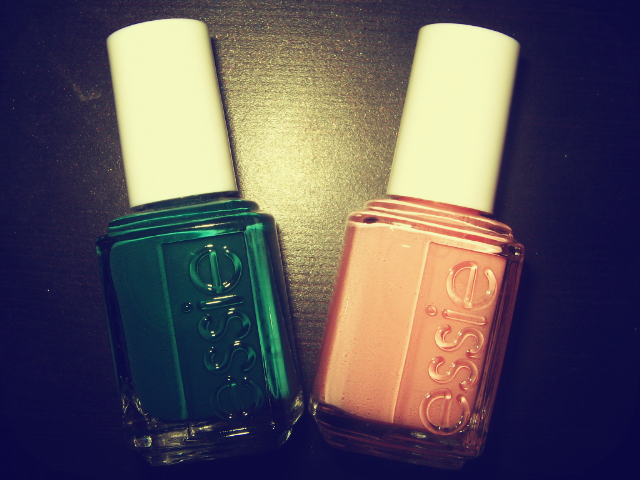 STILA Fabulous in Fiji - Kajal Amethyst Liner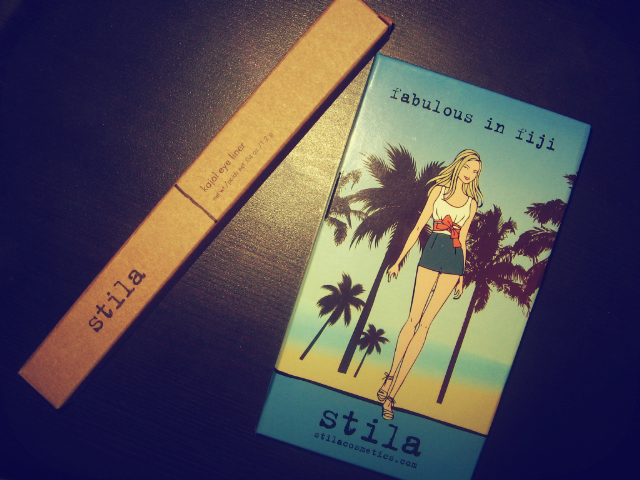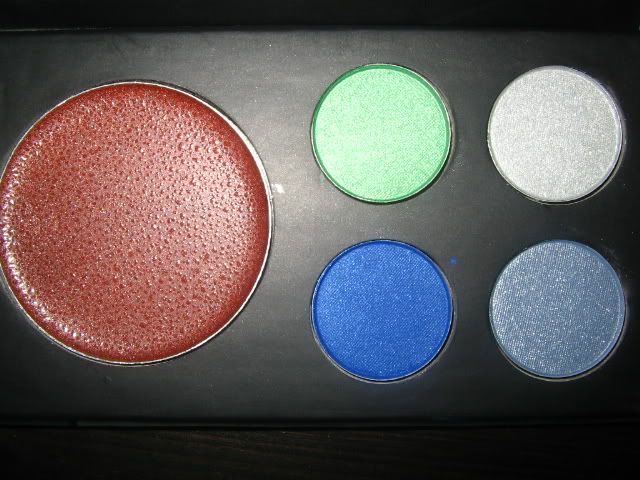 Plumeria Cream Blush/Gloss
Shadows [l-top]Palm, R&R, [l-bottom] Wave, Escape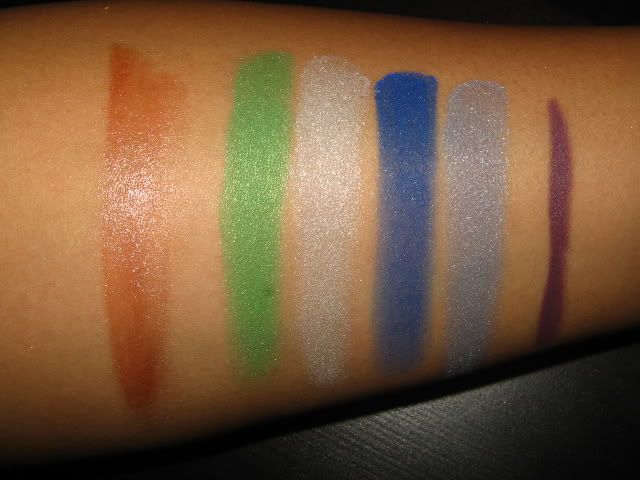 STILA Fabulous in Fiji followed by Amethyst Liner
(no base)
CARGO Lumieres Du Monde Palette
Swatches are in corresponding order w/ no base from [L-R]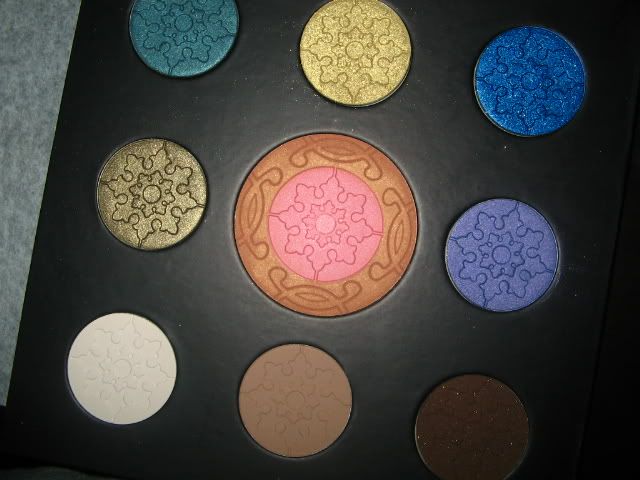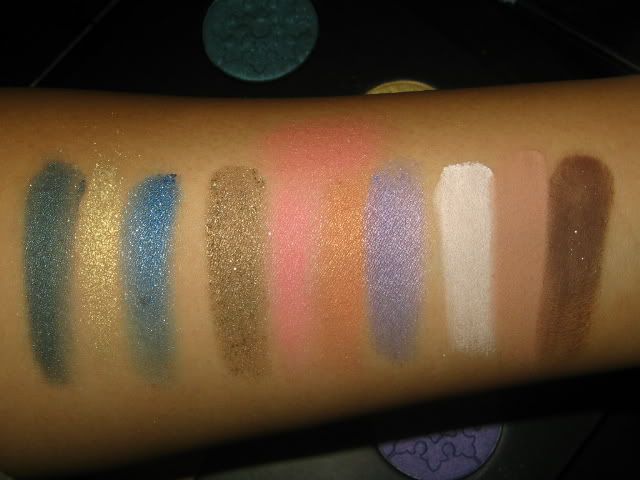 The blush/bronzer is swatched separately and then blended together (shade above both).
Bobbi Brown Corrector Medium to Dark Bisque
CARGO Blush/Highlight Pink
(right)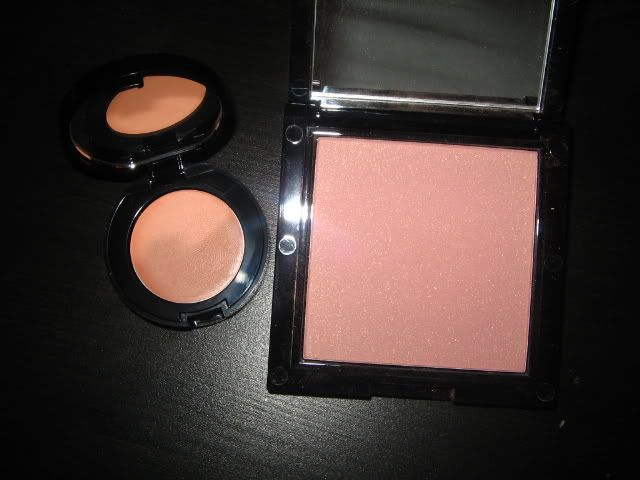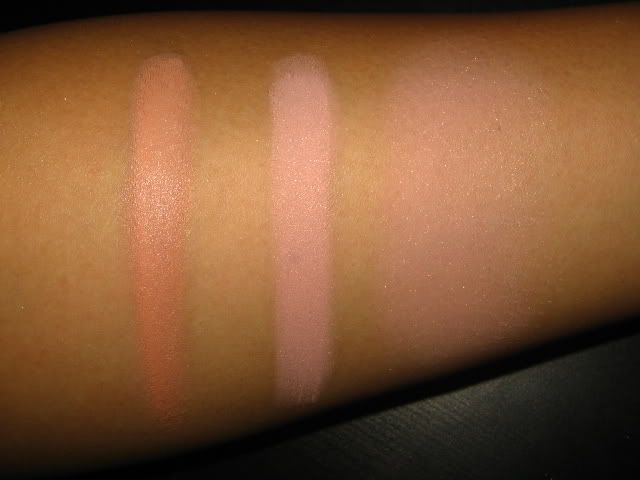 The blush heavily swatched and blended.
My blog sponsor
Apothica.com
graciously sent me a giftcard code to choose items from their website. It took me over a week of googling swatches, reviews of items they carried on their website to finally settle with the items I picked. I finally gotten around to showing pictures, even though I received these over a month ago. Bad blogger. But I am TRULY happy with what I got and grateful for the chance to try these new items.
The good thing is that the website tends to carry items not available at other populous beauty sites and I was able to get discounted off from a code I found which helped. Onto the reviews...
ESSIE Polishes - Going Incognito & Van D'G
o
I didn't have a photo swatch but I promise I do have a future NOTD on these. Going Incognito is so freakin' gorgeous. I love the dark green shade, so unique and flattered my skin tone nicely. Van D'Go was described as a peach color and it wasn't anything I was wow'd in but it is a pretty shade.
STILA Fabulous in Fiji Palette
In my previous post on POP Beauty palette, I said how I was looking for travel items. I originally picked this palette up to serve that purpose because it's so tiny & incase I wanted to wear bright colors. I had $10 to spare on my account so I got this on a "why not" basis - the colors are really nice and I don't own anything similar to the bright green & blue. Really pretty, swatched beautifully - I like Stila shadows but I just don't ever gravitate towards them. Plumeria is just not a color or shade I would gravitate too, it's too sheer/greasy looking for me to wear on the cheeks.
STILA Kajal Eye Liner - Amethyst
I already owned Topaz liner and LOVE it - I saw a swatch online and have been silently lemming for Amethyst, this is a perfect alternative to black liners which on me makes me look older and makes my eyes look smaller. The purple brings out the browns nicely and the staying power on these are good.
CARGO Lumieres Du Monde Eyeshadow Palette
I never tried CARGO items so I gave in and for $20 (currently on sale) I felt like it wasn't a huge loss if I didn't like it. WOW, are these awesome! The blush/bronzer duo is so gorgeous and gave me a lovely glow, separate or mixed. All the shadows swatched nice and my favorite being the Teal & beige/brown color. It's a mixture of shimmer, matte and satin shades and they all work well together - the shimmery ones had a bit of fallout but otherwise no complaints. I was surprised at how big the palette and shades were, and that's my only complaint - the bulk of the palette, pretty big. The shades are that of a MUFE pan shadow size and blush a bigger than MAC's blush pan. The imprint design didn't go away while swatching, and I find it to be cute. Another travel item good to have.
Bobbi Brown Corrector - Medium to Dark Bisque
I was looking at Ren Ren's Makeup blog on color corrector and remembering other YT beauty vloggers speaking on salmon based color correctors for dark under eye circles. I didn't find too many swatches on BB Corrector and my suppose shade was sold out so I opted for medium to dark bisque as it was another recommended color for my skin complexion. This works perfectly if you're the shades of MAC NC 44-45 or probably even the the lower to higher 40s. You can wear it alone or with your concealer of choice on top. Either way my dark circles were not visible and the wear on this lasted me throughout the day, a bit creasing went into the fold but managable. I reach it for everyday now and it works good on blemishes that have blue/purple discoloration.
CARGO Blu-Ray Blush/Highlighter - Pink
This is such a raved product I've never heard of, on Makeup Alley it scored very high. I didn't know if I should've gone with peach shade (only two colors they own) and opted for the pink because it was the most talked about. Unfortunately I hardly found any swatches of the two. Personally, it's overrated - especially for my skin tone, it's a bit chalky. It gives a nice hint of color but I wonder if Peach was better suited for me. The lack of shades is a miss but I'm sure this would look much better on fairer skins. The product itself is silky to the touch with a bit of shimmer - I'm going to try it more as a highlight and see how it fares compared to just using it as a blush. Otherwise it's like an eh
Have you guys tried any of the mentioned products above?
CELLY