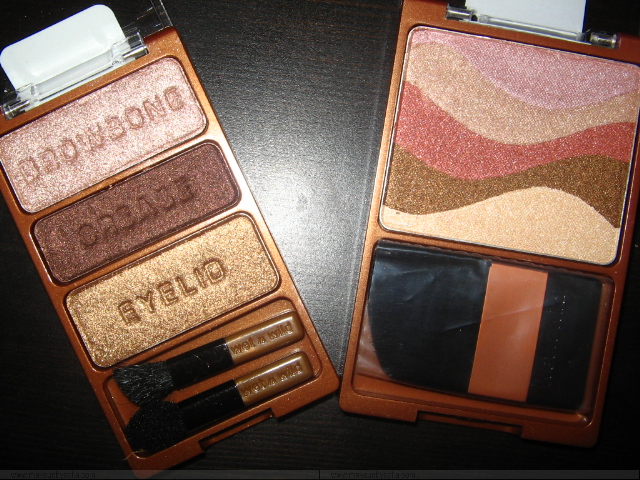 Wet N Wild brings us the latest Limited Edition Items called Go For The Gold. Shades coming in bronze, golds and taupe colors perfect for the Summer. Below I have swatches and comparable dupes.
1. Wet N' Wild Trio ColorIcon Palette in
The Gilded Age
2. Wet N' Wild Bronzer in
Everything Under The Sun
individually
3.
Everything Under the Sun - Bronzer
blended together
BRONZER
I'm not one to like different colored bronzer palette, I feel they tend to look a bit muddy when blended together. This one is decent but I'd prefer more of the brown and maybe add an orange and gold to blend better together than pink and white shimmer. The brown though makes a beautiful eyeshadow shade!
DUPES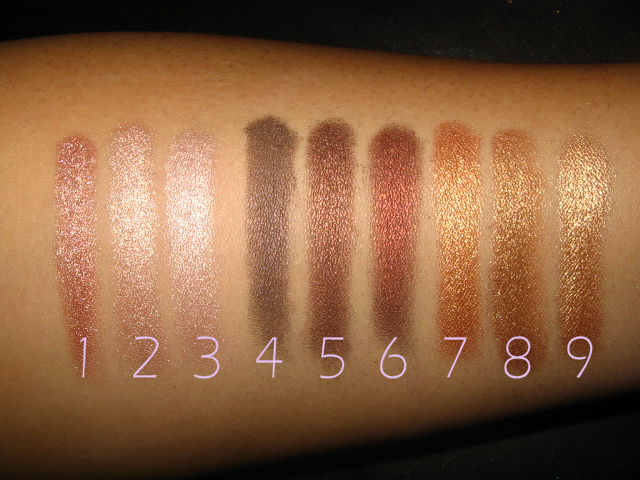 If you don't have these High End Dupes or missed out on the Go For The Gold items - here are some dupes I have that are comparable from my own collection:
1. MAC - Tan p/m
2.
WNW BROWBONE
3. Urban Decay Naked Palette - Sin
4. Urban Decay Naked Palette - Huste
5.
WNW CREASE
6. MAC Spectacle Of Yourself Mega Metal Shadow (le)
7. MAC Amber Lights
8.
WNW EYELID
9. Urban Decay Naked Palette - Half Baked
Browbone
WNW shade is a shimmery champagne color and thought I would have problems finding a shade similar, while MAC Tan leans towards pink - they have the same consistency. UD's Sin is the closes dupe I got in shade color. A small tip is you can use this as a highlight shade for your cheeks as well!
Crease
WNW Crease shade is a bronze brown, I love their browns - all very unique and the harder ones to duplicate out of my own collection. UD Huste is more muddy and doesn't have any of the metallic texture. MAC's Spectacle has the texture but had more red undertone than WNW which a true brown shade.
Eyelid
WNW shade is a golden shade, not entirely unique but still it compliments the package very well. Compared to MAC Amber Lights' it is a bit deeper while AL is more bronzed-golden. But I found UD Half Baked to be really similar although HB is a bit lighter in shade but passable.
Overall
I really enjoy this palette more so than the bronzer, I tend to be a bigger fan of their more neutral, bronzy shades than bright but overall in terms of pigmentation this one is a winner. Unfortunately it's only limited edition, hopefully you guys were able to snatch one up!
CELLY
*disclaimer:

wnw beauty ambassador.

products provided were sent for review consideration, this does not alter my personal opinion on said products.