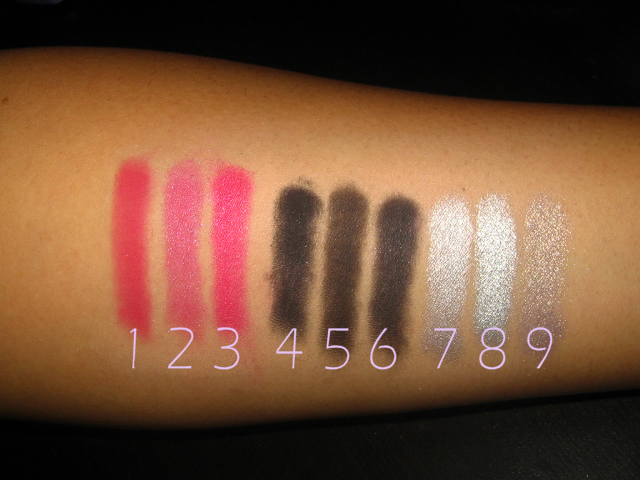 Wet N' Wild Spoiled Brat - 3 Shadow Palette
$2.99 Walmart (sold in Walgreens, check local drugstore)
Swatches are done with UD Eden base and duplicates are based on closes matches I have in
my personal
makeup Collection. Mainly MAC & Urban Decay Cosmetics.
1. MAC - Post Haste
2.
WNW Eyelid
3. MAC - Fuchsia Pigment
4. Urban Decay - Oil Slick
5.
WNW Crease
6. MAC - Carbon
7. MAC - Electra
8.
WNW Browbone
9. MAC - Idol Eyes
This is an awesome palette overall, although for me personal - not unique as I obviously have similar shades in my makeup collection. Here's a rundown on duplications (obviously they are similar but not exact copies):
The Pink - Eyelid
It's vibrant on the pan but not as bright as MAC Fuchsia Pigment and not as deep as Post Haste, but when applied on the lid - it does definitely looks more like MAC Fuschia p/m as it has a bit of shimmer in it too.
The Black - Crease
I love WNW version of black, I don't own MAC Black Tied but it's similar. The shimmer are very noticeable when swatched. MAC Carbon is obviously a matte shade but all black shadows look alike it depends on the shimmer. I swatched it next to Urban Decay's Oil Slick, which to me is more gritty and a lot darker but in terms of shimmer has the same consistency.
The Silver - Browbone
I did the mistake of comparing it to MAC Idol Eyes which has the worst color payoff ever, but in the pan they are both very similar looking. WNW is what Idol Eyes should have been - yet Idol Eyes swatched much darker in person (and in the photos), weird. As for MAC Electra, it's passable but Electra leans more towards silver and WNW is more metallic
For those on a beauty budget, I would definitely check this and add it to your collection.
Although I am WNW Beauty Ambassador, this palette was purchased by me.
EDIT: Silly me, forgot to edit this - will be doing a 24 hr twitter giveaway to 1 (one) individual.
They will be receiving WNW Spoiled Brat palette.
Internationally opened.
Follow me @MakeupByCelly

One entry per person (make sure you're not under privacy lock, can't see whom you follow)
Ends June 22nd Mid-night PST
Winner will be chosen at random and announced on twitter

Just Retweet
once
to enter:
"

Enter @MakeupByCelly WNW (@wetnwildbeauty) Twitter Giveaway to win Spoiled Brat colorIcon! http://bit.ly/kMTI4Y #MBCSpoiledBrat

"
Will have another small twitter giveaway next week, make sure to follow and be on the lookout for tomorrow's post :)
CELLY