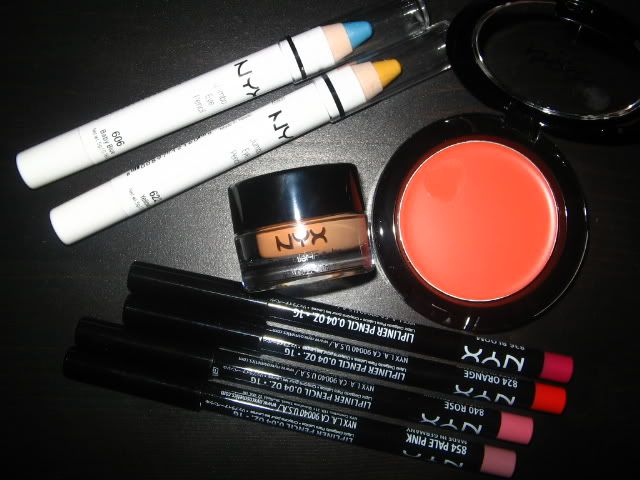 Jumbo Pencil in Baby Blue & Yellow - $4.50
Rouge Cream Blush in Orange - $6.50
Concealer in a Jar in Tan - $5.50
Slim Lip Pencils in Bloom, Orange, Rose & Pale Pink - $3.50
Rouge Cream Blush/Blended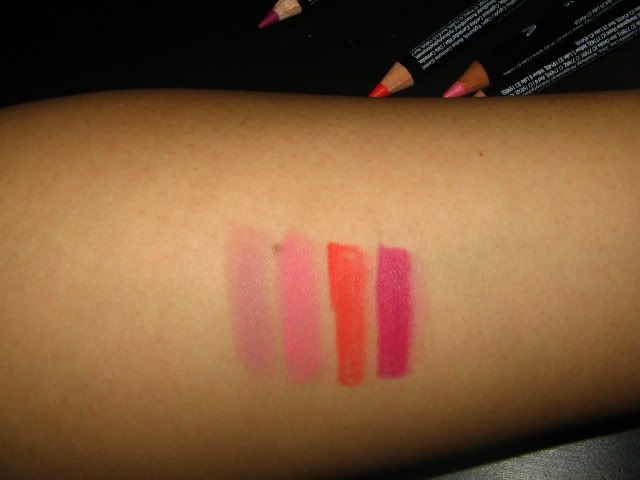 [l-r] Pale Pink, Rose, Orange, Bloom
Remember that whole NYX debacle? Yeah. Well, I don't haha.
I wasn't interested in the whole "scandal" that a lot made it up to be because frankly at the end of the day, it's just makeup and the company is able to run it however they want. I'm just happy I got a good discount off of it anyways, something is better than nothing! The only thing I am mad about is me not getting more items - I was strickly in a under $20 budget and did well with only spending $18 (free shipping was included).
I went to Ulta the week after I got my haul and big mistake, I swatched their glitter and liquid liners and cursed at myself for not getting these. I wish there was a database too for all swatches because I would have def bought more lip liners and lipsticks if I had more accurate swatches. Google can only do so much.
Slim Lip Pencils
Pale Pink - a nude shade with very light pink undertone
Rose - a pastel pink, lightly bright
Orange - deep shade of orange, at times looks orange-red
Bloom - fuchsia/berry
Rouge Cream Blush in Orange
I actually liked the feeling of this and it's similar to MAC's cream blushes, not sure about wear time. Very light and easy to apply. It can dub as a lip gloss if need be too.
Look out for a NYX Lip Liner Swatch Post soon - will include all that I own in my collection.
How did you end up in the Sale?
CELLY