MAC Mega Metal Eyeshadow
- Spectacle Of Yourself
MAC Eyeshadow (perm)
- Sketch
MAC Pro 15 Pan Palette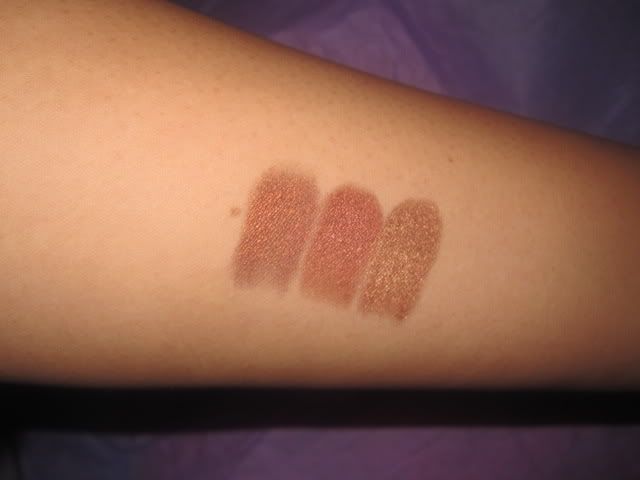 Urban Decay Primer Potion (lt to rt): MAC Spectacle of Yourself - MAC Antiqued - MAC Bronze
I was hearing a lot of good feedback on the Peacocky collection so I checked it out. The shades are all beautiful in this collection but all really duplicated. If you don't have anything similar, definitely pick one up.
Spectacle of Yourself is a deep chocolate, bronze shade. Most similar to Antiqued but has less red undertone and Spectacle is slightly deeper. The Metallic Metal collection definitely swatches much easier. It took one swipe as oppose to the shadows taking two each. If you have Antiqued in your collection, I'd probably pass. It definitely isn't unique but I do really love it and it applies so nicely.
I did love the glosses in the collection - I definitely want to pick one up before it's all sold out. I love SKETCH - oh em gee, I dunno why I never picked this one up before. And I officially now have 8 Pro Pan Palette (not including my 2 blush palette).
Oh, MAC... my wallet hates you but my face wants to make babies with you.
CELLY