I bought these brushes this past weekend after lemming for them for awhile now.
They had several sets with longer handles, one being this face set and another for eyes. Majority of the brand had travel size items which weren't appealing to me and single brushes. I'm going back to get the stippling brush for travel.
WHAT:
Ultimate Face Set w/ Travel Case
WHERE:
Walmart (bought in), Walgreens (Personally seen them there), Ulta, Riteaid.
HOW MUCH:
$12
The brand is all less then $20 - most products ranging in $3-5 for individual brushes.
At Walmart they had Tester stands so you can feel the brushes.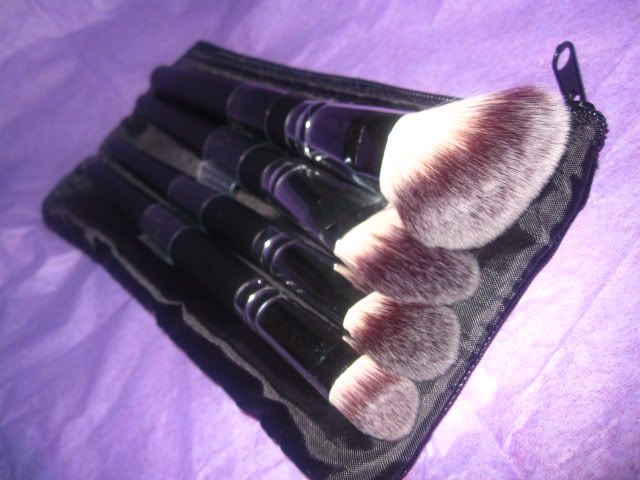 Left/Right

: Contoured Cheek Brush, Foundation Brush, Mini Powder Brush, Deluxe Concealer Brush

Above is a comparison between my (very dirty) MAC #187 brush, Cheek brush and ELF Brush to show the length of the handle.

Foundation Brush
The foundation brush is too small for me personally, but it's good for blending out smaller areas around my face and contouring with cream products.
Concealer Brush
I've been needing one and this is awesome. Does the job and blends out nicely.
Cheek Brush
This doesn't pick up much product but that's completely fine with me because I always try to get as little blush color and then layer more if needed. Heavy hands need not worry. It's so soft, ahh - I love soft brushes against my face.
Powder Brush
I'll have to test this one out... good size for putting translucent powder to selective areas.
Overall - I'm LOVING these. They're so soft, work well and most importantly really affordable. When it comes to any form of face brushes - the softer - the better to me. Density is good too for product blending. No weird smell upon opening them but I did wash them because I could tell they were tampered with (and I touch them as well, can only imagine others do too). It does not say what material the bristles are made of in the bag. But their sister brand is EcoTools.
Have you tried these brushes yourself - thoughts, opinions?
CELLY