Herro!
So I figured this could be to some assistance to SOMEBODY out there. My everyday skin care routine - and this is pretty lengthy! Before I go any further, remember what works for me may or may not work for you so please take that into consideration. For further assistance I've listed my skin type below:
Combination Skin (Oily T-Zone, Dry Cheeks)
Eczema & Allergen Prone

Severe Acne Prone (Cystic, Black & White Heads)
Easily Scars
Sensitive Skin
Deep Pores (Nose & Upper Cheek area)

I have a lot going against me to say the least lol. Genetics play a part, obviously. My dad is 45 and still has adult acne (very rare pimples though) and Eczema/Allergies run in both sides of my family. With my skin care I have drastically reduce my breakouts of frequent cystic acne to just those hormonal acne (where you have a break out pre-menstruation) and those annoying ass blackheads. Also my acne scars have reduced a lot. I laugh when I get the odd comments about how nice my skin is - well, I owe it up to
Makeup
.
Thank you makeup for creating and covering up my acne and/or acne scars! *smirks*
I have numbered the items according to what I use first to last.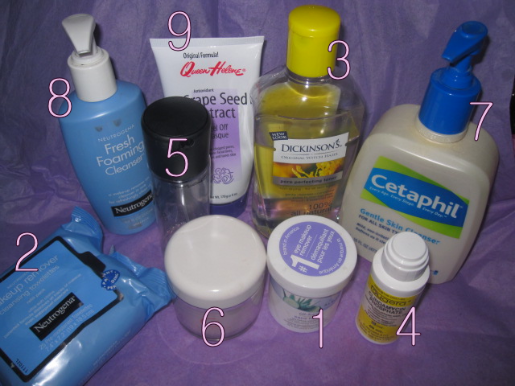 1. ALMAY - OIL FREE EYE MAKEUP REMOVAL PADS
First step in makeup removal. I love these pads - I splurge on them once a while. I get the Oil-Free because the Moisturizing one leaves me hella oily and the mess gets in my eyeball and I'm damn near blind for seconds. Anywho the only purpose I use them is for eye makeup removal (duh) especially for mascara. Hardly will it pull out lashes upon removal and it doesn't take much effort to get it all off either. A few swipes/grabs on the lashes and it's all gone.
*Alternative: Neutrogena Oil-Free Makeup Removal + Pads
2. NEUTROGENA - MAKEUP REMOVER CLEANSING TOWELETTE
Second step. This is my HG makeup wipe removal. I have tried them all. I actually was drafting a post on all the makeup wipe removals - so look out for it. I'm so mad they raised the price on these over the past YEAR! Every store, no joke. I use this to remove all the makeup on my face. I love how thick it is, never loses moisture quickly (some of you know what I'm talking about) and doesn't leave my skin dry or give me residue feeling.
*Alternative: Almay Oil-Free Makeup Remover Towelette
3. DICKINSON'S ORIGINAL - WITCH HAZEL PORE PERFECTING TONER
Third step. I must have a toner in my skin care routine. MUST. My face never feels clean without it. Doesn't matter how good of a cleanser you have - there is always some form of dirt/makeup residue left. Also it's good for scar fading. I search high and low for non-astringent toners - Wet N' Wild (yes, thee WNW) use to carry my favorite HG toner ever and discontinued their skincare line. Womp. I like toners that cleans well but doesn't leave my skin dry. It has to have a moisturizing effect because I don't use actual moisturizer in my routine (skin care cardinal sin) so I tried Dickinson solely because it's cheap and it's a huge bottle. I'm on my second bottle and I really notice how my acne scars has faded loads in a short time because of the witch hazel property. I use to buy Eskinol toners for acne scars but they left me dry. I don't like the smell at all but it doesn't linger on the skin. If you have dry skin - I'd actually recommend a more sensitive toner with hydration qualities but this has worked well for me. I use makeup pads with exfoliation beads with this product to sloth off skin and remove makeup better.
*Alternative: L'Oreal Hydrafresh Toner or Eskinol
4.ACNE MEDS - ERYTHROMYCIN (PRESCRIBED)
Fourth step. After toning - this is the time I use any acne medication I may have. The clean skin for me makes the medication seep into the skin. Erythoromycin is what's preventing me from getting severe acne. I would use over-the-counter stuff and have it work temporarily for me. This is actually my dad and sister's meds (no insurance for me - tear) so I wouldn't advise just using anyone's stuff without consulting with your physician but me, my dad and sister have the SAME acne/skin issues and I have used this for so long with no adverse effects. I use before applying makeup and at night.
*Alternative: Neutrogena Rapid Control Line
5. MAC - CHARGED WATER HYDRATING MIST (LE)
Fifth step. As mentioned before, I don't use proper moisturizing lotion. I use hydrating mist. It still keeps my skin moist without that thick feeling I get from lotions. I don't know, it's preference. I like the MAC Charged Waters but it sucks it's limited edition. Hopefully it comes back out soon. Anyways I spritz this right after my acne meds and it soothes any irritation I might get or skin dryness. I have found another hydrating mist but it irritates my skin a tiny bit... MAC Fix + is too heavy for me and acts more for setting your makeup then hydrating your skin.
OTHER ITEMS
6.GLYCOLIX - ELITE TREATMENT PADS 20%
I bought this from
SkinCareRX
in search for a gylcolic acid product to fade my acne scars. I haven't used it much to give it a proper review but I use this once a week. Leaves my skin hella smooth!
7.CETAPHIL - GENTLE SKIN CLEANSER
I use this in the morning only after I brush my teeth and wash my face. Just to get a simple cleanse after rubbing my face on a pillow or whatever. I don't use it for makeup removal at all, barely gets it off. But gentle formula makes it suitable for the morning time and leaves doesn't dry out my skin.
8. NEUTROGENA - FRESH FOAMING CLEANSER
This stays in my shower. I use it when I shower with makeup still on. It takes EVERYTHING OFF quickly. It's actually a really good cleanser for that - which is it's purpose, remove makeup. I only use this in the shower time because it's very drying to me so it's not a daily thing I would use. When I'm super lazy and don't feel like using makeup wipes/pads - I use this instead. Another positive is there is not much makeup residue left when I follow with the toner routine.
9. QUEEN HELEN - GRAPE SEED EXTRACT PEEL OFF MASK
I don't use this often, I tend to forget - but it's a good peel. It's purpose are for fading scars and pores. It gives a nice glow afterwards. I use this around my nose area more... doesn't get shit out but yeah haha. I'd like if I can get a recommendation for black head peels (besides Biore!).
So yes - that was it! Haha. If you have any further questions on a certain product mentioned above, feel free to comment/email me.
Celly