You know
I love me some ELF... cheap products but GOOD products none the less! My frugal ass.
Anycheapness, I went to Target again and noticed the Eyebrow Kit. Now, I only saw this one shade but online there's 3 more.
Click here to shop
.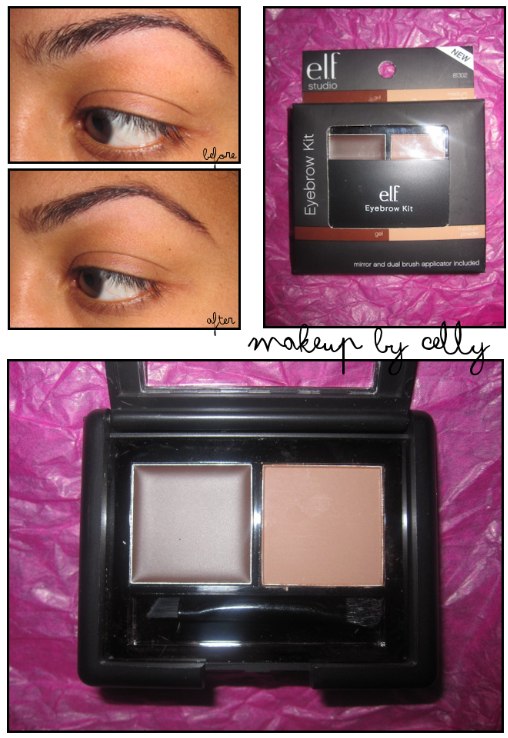 Normally for eyebrows I have my HG product - Wet N' Wild brow pencil, it's a lot easier for me to apply pencil to the brow then gel or shadow. My Wet N' Wild brow gel I believe got discontinued unfortunately, that was the ISH too! I have purchased the NYC eyebrow kit and thought it was okay. This is MUCH better in terms of color and consistency.
As you can see in my before and after, it matches my hair very well. I do NOT have a brush specifically for eyebrows so I couldn't apply it to my best abilities but the provided brush in the kit was sufficient for this review. The powder part (right) is too light to use, but I use it to set the gel and eventually it becomes transparent. I like it enough to keep it in my personal makeup collection but I go for my pencil a lot more because it's quicker for me, again that's just me.
Right now ELF has some sales going on, here's a few linkage. I was SO pissed I missed out on the 60% off all items, no maximum limit. It only lasted for a short time but ugh. I'll make sure to keep my eye out better.
Anyone else tried this Eyebrow Kit - what's your go-to brand for eyebrows?
Will do an HG post on my beloved products in the future...
Celly