I did
my fair shopping this past week with I don't know WHAT money.
Ugh, it's hard out there for a broke pimp.
I had cleaned out my closet and donated half of my clothes - you know, outdated stuff, clothes that fit me too big now (yay!) and also stuff I knew I wouldn't wear again. That and shoes so my closet is pretty empty and I've been shopping here and there to replenish it. Gotta feed my baby.
You know the thing that sucks about the internet with Facebook, Myspace and what not? Well, I feel like you can't wear clothes more than twice because there's pictures of you wearing it and everyone has seen it - especially to special occasions like birthdays and such. I mean, I wear my clothes more than once of course but it's not like before... so it's always shopping to have something "new" to wear for outings. Ah well, retail therapy is the best kind of therapy.
Anybrokeness - my friend's friend works for Ross so she hooked it up with her 40% discount. I didn't do much damage as I wish I could. I'll wait for mommy to buy me some more clothes - I'm wanting a bunch of ripped skinny jeans and white ones. Bit harder to find for a girl my size but it's a challenge I'm willing to conquer.
[left-right]
Flats - H&M ($10)
Wedges - Target ($18 - on sale)
Guess Heels - Ross ($35.99 - discount $22)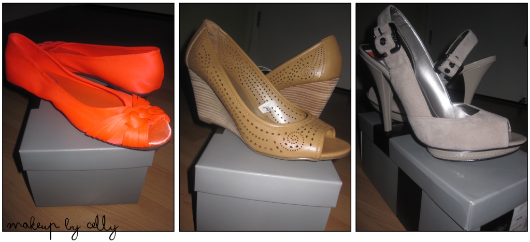 Okay so I've been looking everywhere for a white blazer and finally places like H&M, Forever 21 were carrying them but H&M had it for $50. NEWP. I went several times and checked to see if the prices lowered and finally I saw a $20 version hidden behind hella neon shit.
I was like, oh my gosh - this shit was meant to be!
I think the difference was fabric (one is heavier and better fabric) but it was the same damn thing. I can't wait to wear it - I think I'mma sport it for an upcoming wedding.
[top-bottom//left-right]
White Blazer - H&M ($20)
Plaid Tunic - Ross ($12.99)

Flowered Tunic - Forever21
Belted Shirt - Ross ($11.99 - discounted $7)
Laced Tank - Ross ($12.99 - discounted $8)

Ruffled Cardigan - Forever 21
Hello Kitty Shirt - H&M
Ruffled Tank - Forever 21
What's your favorite clothing store - best for deals?