My friend is an avid makeup fiend just like me and she told me she got her "MAC" at a local flea market. We went several times these past few weeks and me knowing my MAC - knew majority of the products being sold were fakes.
I'm not a fan of fakes for a few reasons:
Crap Quality
Unknown Ingredients
Overpriced
Marketed as Authentic
Others think it's unfair to brand/designer - I'm indifferent to that, I think counterfeit will happen regardless. But I don't fully support it I just rarely partake in it.
In bringing that up, the seller did have very few real MAC products. I'm not entirely sure if these two blushes are real but I believe they are. I compared them and searched it's contents - it seemed like blushes were the only things she had that were "real" and handful of eye shadows kept in a separate area. And for $8 each - I wasn't too upset or would be upset to find out if they were fake. I really love my purchases.
What I liked is that she knew WE knew the real deal on her merchandise and never mentioned it's authenticity on most of the product but on certain things she did and even gave us a chance to buy and return it full-refund if we weren't happy and discounted our purchases even lower (my blushes were originally $10 each).
I bought (right to left) Springsheen and Sunbasque.
Swatched heavily below.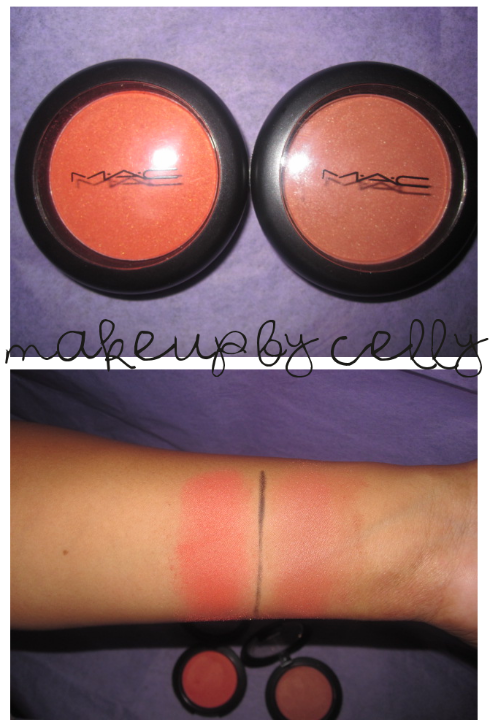 I'm not the biggest blush fanatic - I always feel like they look the same on my face. I'm very choosy on what I pick and very happy with my collection. Although Breezy & Fever are similar (not happy about that lol). I didn't add my one and only MSF - I don't really categorize it as a blush and plus it's so lonely being an outsider.
Palette #1 (far left)
TOP:
Dollymix, Joyous (LE), Cantaloupe (PRO)
BOTTOM:
Peachykeen, Margin
Palette #2 (far right)
TOP:
Fever, Breezy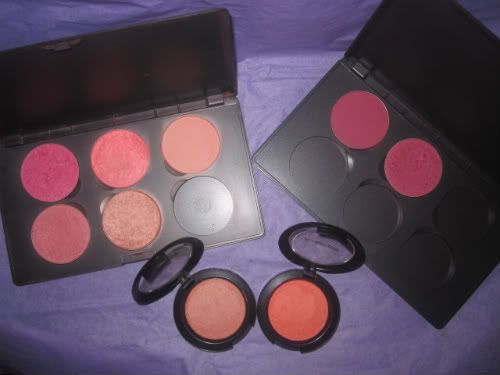 Must Have Pro:
Cantaloupe
Went to the PRO store in San Francisco several years back and the MUA said Cantaloupe was their best seller and I'm easily persuaded and glad I was. About 80% of my FOTD are me using Cantaloupe. PERFECT everyday blush, gives my skin a nice healthy color to it. I'd be weary for darker skin tones though.
Must Have Limited Edition:
Joyous
I broke Joyous (which is SUCH an awesome color, sad it's Limited Edition) and it somewhat cooked the blush when I was melting the pan so I don't use it as much but omg, I might love it more then Cantaloupe if it wasn't for that unfortunate event. I loved the Beauty Powder Collection - I don't think they got the hyped it deserved.
Must Have Permanent:
Peachykeen
My friends, mother, sister - whoever really gravitate to this blush. This one or Margin. It's a great universal shade and just a pretty pink. Not too bright, too dark - just perfect. This was my first MAC blush too. A must for blush fans.
Phew. Long post.
What do you guys think about fake makeup - or my little finds?
And is there a favorite MAC Blush you can't live without?
Please share.
Celly