In some post back I mentioned how I want to start wearing heels so I make a conscious effort to buy shoes with small heels or wedges to wear over Summer. Eventually upgrade to some "fuck me pumps" haha. 6-inchers here I come!
I went to Payless and found these wedges on sale for $19.99 from $24.99.
I only saw 3 color choices at the store - white, black and yellow. I wanted them all!
These are so comfy and affordable.
Don't hate on Payless if you're a shoe snob, they do carry brand names here and there and have cute selections. I prefer the American Eagle and Lela Rose - they have the better looking stuff by far.
[
click to shop
]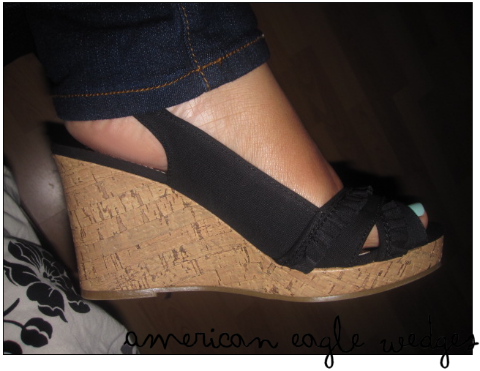 Next thing is to find some Christian Louboutin shoes like these:
Poseidon.
My friend bought them and while they're gorgeous, I personally do not have $1,200 to spend - so if anyone can find something similar but WAY cheaper, let me know! LOL.
Celly