Revlon LE 2008 Collection.
I bought this late last year in Big Lots out of all places!
I think the price I got it for was $3 or so? I know some folks had luck finding it in Dollar Tree but my local DT only carries LA girl stuff. Big Lots tend to have Revlon more and more likely older collections.
Heads in the Clouds has the softer shades.
The packaging is good, especially for traveling and the brush it comes with is usable and not itchy like most drugstore brand are. These are sheer shadows - I have yet to try them wet though. I'll probably edit and update this post later with foiled swatches.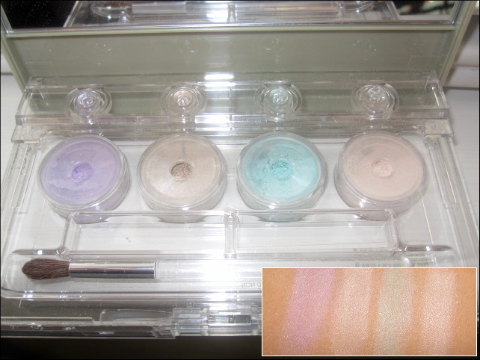 I'm not a fan of sheer eyeshadows but for everyday, on-the-go looks - it's perfect.
The colors are really pretty in my opinion. Spring colors! Slight shimmer too.
The lilac is really pretty and reminds me of MAC's Digit or Parfait Amour.
The beige color has a hint of yellow. I tend to use it on the lid as a wash.
The turquoise color is pretty as well and MAC's Aquadisiac is a good dupe.
The last shade is a white shade - it's a good highlight color and the sheerness of the pigments work well for that!
I quite like it but to be honest, I don't reach out to it often. It's a great edition for makeup starters though or for traveling and don't want to wear heavy makeup!
Anyone own the Revlon's Soft On The Eyes collection - what's your like/dislike?
Celly