I was kindly contacted by an Eyeko rep. to test out and review some their new nail polishes.
I've been wanted to try this brand out ever since so many Bloggers made post on them.
Posh Polish
I was hesitant on trying this but I'm glad I did my weekly mani with it. It's a really gorgeous shade, my pictures don't do it justice. And it works well against my skintone. I'm glad this was easy to work with in terms of layering coats and application.
Shade: Taupe (gray/brown)
Coats: 2 (at most, very opaque)
[
click to shop
]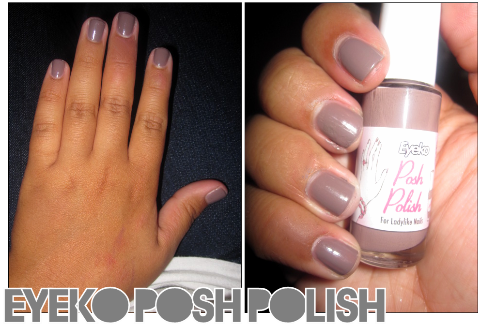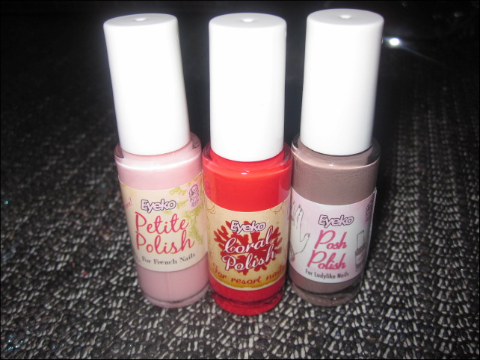 Coral Polish + Petite Polish
I decided to play around with Coral and do a french with a twist. I used
Eyeko Petite Polish
as base and Nailene were kind enough to send me nail strips for creating french nails, used that - then added white polkadots. I like that this shade of Coral wasn't so bright and true to color. It's a pretty shade, to me it's nothing special because I own so many Coral shades but it is a good product none the less. Petite Polish is nothing special, I've used better Polishes dedicated to french nails. It didn't give a hint of pink to create a natural looking bed but then again I didn't layer the coat.
Shade: Coral (Red-Orange)
Coat: 1 (for tips)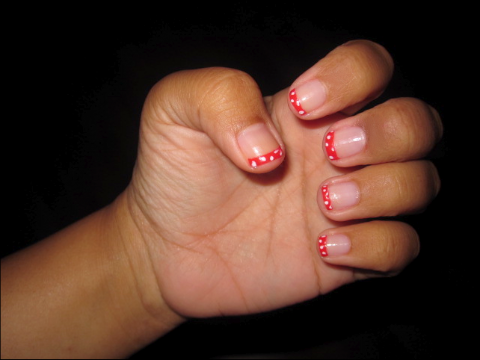 My only gripe with this product is the packaging itself. I'm not into the childish, Manga images. It looks cheap - obviously the product itself does not reflect the package but it's one of the reasons why I never bought from Eyeko... you wouldn't imagine a product that looks geared toward children will be any good. I kinda prefer their other packaging, aside from the labeling - the bottle itself gave a bit of vintage feel while these are nothing special.
Anyone have their favorite Eyeko Polish shade?


Celly
DISCLAIMER:

Said product was given by said company to be reviewed on Makeup By Celly. Product was used by me and all shared opinions are honest and not influence because of gratis. Products should be used at your own discretion.