Continuing from Part 2...
I own majority of the ELF brushes - I believe I did an old post on them if you search my blog.
I love them all! I really want to complete the full collection and get more. I bought many doubles and gave them to my mom and sister. For $1-3 it's really one of the most affordable and best brush line out there.
I own:
Eyeshadow Brush
Blending Eye Brush
(always sold out!)
Eyelash & Brow Wand Brush
Studio - Powder Brush
Studio - Contour Brush
Total Face Brush
Great for all over powder and light buffing here and there.
[
click to shop
]
Blushing, Bronzing and Blending Brush
This is a great blush brush because of it's slant - it works into the hollow of the cheeks!
[
click to shop
]
Defining Eye Brush
I used this on a client already and it worked really well for the crease and blending. I'm loving it already. Fortunately I bought backups. Totally recommend.
[
click to shop
]
Foundation Brush
Have yet to use but the bristles are nice and soft - not so stiff. Curious to see how well it'll apply.
[
click to shop
]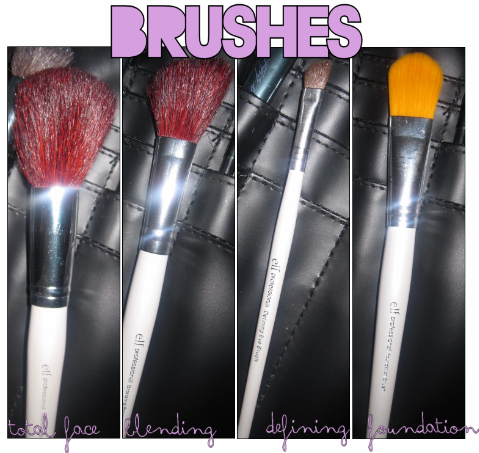 Makeup Artist Brush Belt
My little pride and glory. Been wanting this FOREVER! I finally bought it and I'm so happy I did.
I love it! I put a few of my brushes to give an idea on how it looks. Has 3 rows for the brushes and two deep pockets for items. The feel is of semi-stiff pleather but it feels like it'll get softer with more usage but I don't mind. Has an adjustable belt. I already got compliments off of it. For $15 this is a steal and a must by! Totally makes your job easier on clients.
[
click to shop
]
Okay, so that completes my ELF Haul Reviews and Swatches.
Hope you all found it useful.
Celly