I was contacted by the company ages ago (say a year, how rude of me to review it now) and they sent me the All Nighter Styling Powder and here goes my belated review.
Claim taken from the
site
:
The ALL NIGHTER Styling Powder™ is the ULTIMATE all natural hair powder / dry shampoo / styling product to build volume, absorb excess oil, freshen hair and extend your blowout. It gives body to limp, lifeless hair and eliminates the need for excessive shampooing. It gives matte texture and awesome volume and body. The ALL NIGHTER Styling Powder™ is effective on sqeaky clean hair and really works wonders on hair that is 2nd or 3rd day between washings! Scrunch. Zhuzh. Fluff. HAVE FUN!





The cool thing about this product is the color selections [
click to view
].
Most dry shampoos I have tried (spray and powder) resembled that white baby powder color.
The color selections help mimick hair color to better blend in and not leave the white casting like others have.
To my stupidity, I had selected the Brunette shade when I really should have asked for Dark Brown/Black. Because of my fault, it did leave that white casting if I had not blend in properly. But otherwise it looked better afterward then just white looking dry shampoos.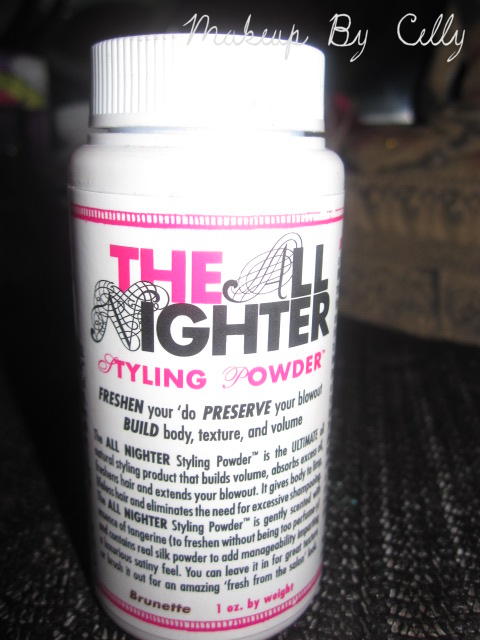 I used my younger sister as the testee since she has really oily hair.
Again, natural hair color is Dark Brown/Black as oppose to Brunette.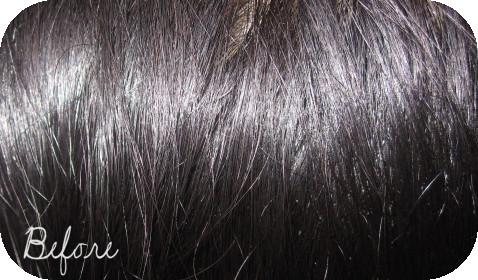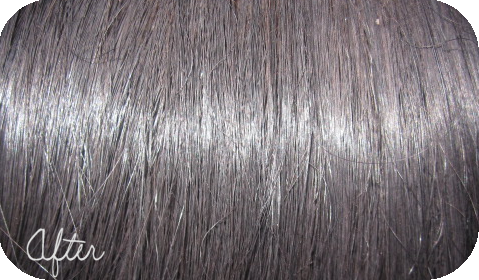 The GOOD
Color selection
Absorbed hair oil very quickly
No noticeable smell
Safe minerals pigments - I didn't feel adverse reaction and I have sensitive skin
Gave good volume. Probably a bit better then using hairspray.
Powder form last longer then spray can dry shampoo

The BAD
Did dry the hair a bit too much if applied too much, of course.
Price

The SUCIO
It stains the scalp if I get it too close to the roots and it's hard to remove from the scalp once it's there and because of the color, it was noticeable. Eventually it tends to fade if you rub it out - but that's a pain to do.

I'd be careful also with clothing because I managed to get it on my clothes and it stained. Fortunately, it washes off clothes and scalp.
The site was smart enough to mention that on their site:
DIRECTIONS: Gently sprinkle a light dusting of The ALL NIGHTER Styling Powder™ through hair, distributing with fingers. Start near the roots and work towards the ends. For longer hair, flip your 'do to get some underneath. Need more? Use more! Used too much? Don't be so heavy handed next time! Scrunch. Zhuzh. Fluff. Toss. Tease. Have fun with it! The micro-fine formulation disappears into the hair. Natural mineral pigments rinse away from hands or other surfaces - but be careful if you are wearing your fancy duds - a towel over the shoulders helps.
Pricing:
$18 US
Sold:
Online only from what I've noticed.
Recommend:
Yes.
Conclusion:
If you need a pick me up between hair washes and good for a bit of volume boosting this product is good for you. Pricing is steep for a product like this which is a turn-off. I try every product once so I'd choose this brand over other dry shampoos, especially spray dry shampoos (they don't last long!). The staining is a pain but the company did provide handy tips and it does wash off clothes. Overall, it does what it promises and there's no BSing around.
Tip:
A cheap alternative IS using baby powder.
Anyone a fan of dry shampooing?
Celly


DISCLAIMER:

Said product was given by said company to be reviewed on Makeup By Celly. Product was used by me and all shared opinions are honest and not influence because of gratis. Products should be used at your own discretion.