I love RiteAid!
I think they carry better deals then Walgreens and Walmart - CVS is just too expensive even when they carry special sales. Plus, no hassle on makeup returns.
Anyways, every often RiteAid has stickered priced clearance items that are 75% off and BOGOs every week. Either BOGO Free or 50% off. This week they had sticker clearance on Black Radiance, Tropez and NYC. Majority where gone by the time I looked around but Black Radiance still had their products mostly stocked apart from the concealers.
I have swatches of lipstick in 5022B Pink Passion followed by a mini review below.
The closes lipstick dupe I own. MAC Hollywood Nights (le)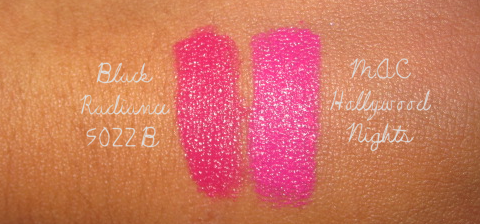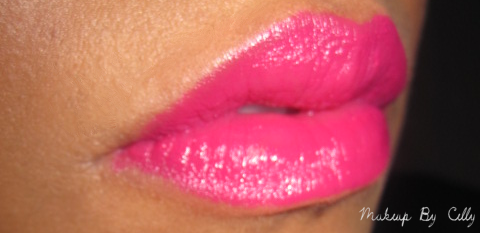 And to show how it looks on me - don't mind how the makeup doesn't match.
Lipstick Review
- 5022B Pink Passion
The lipstick actually came out nicely pigmented. It glided on a bit smoothly and felt slightly creamy and had a somewhat matte finish. Had good staying power. They have a decent color selection. Mostly in darker shades for women of color. Would recommend.
RiteAid Priced: original $1.99 - on clearance $0.50!
Foundation Creme Review
- 6813 Cafe Latte
I've read creme stick foundations were ideal to cover up blemish scars and I have a ton of those. This was easily blendable and it layers on nicely. Somewhat matte and powdery finish. I have to give it proper time to see if any breakout occurs but for the most part, I only used it sporadically and dabbed were needed so none that I can see. It covered blemishes well. If you have similar skin tone color as me, I'd check this out. The selection is generous (I want to guess around 10). I like that this drugstore brand caters to women of color but fairer skin people can check out their other products. Only concealer and foundations are for those of tan/dark skin tones. Would recommend.
RiteAid Priced: original
$7.99 - on clearance $1.99!
The best part? The Foundation came with a manufacture sticker for $2.00 off! I got this basically for
FREE
and a penny back, lol.
I'mma go back and stock up a bit for my makeup kit.
Anyone ever tried the Black Radiance brand - whether or not you're a WOC?
Recommendations are welcomed!
Celly