I bought these months ago - thought I'd give'em try since the shades looked pretty.
I had gone to Target and from what I recall they were on sale for $3.00 or so...
I picked up COLOR
sensational
in Mauve-licious (left) and Pink Petal (right).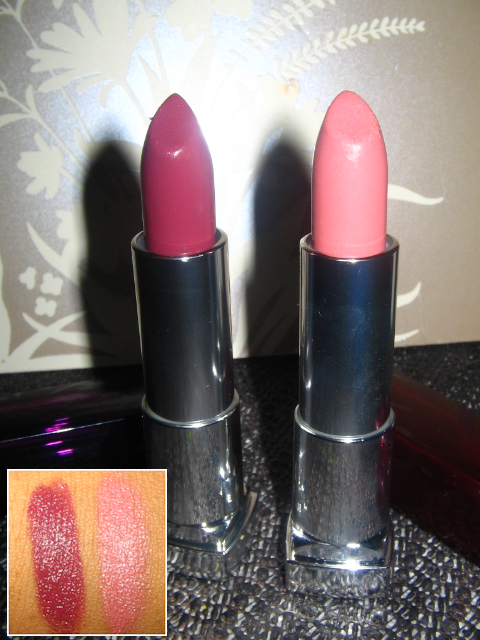 Mauve-licious
- a deep burgundy shade that photographs more berry. The texture is creamy and nicely pigmented. The color didn't fully compliment me - it's too deep for my liking but it's pretty in a vampy way.
Pink Petal

-
nude baby pink color with a hint of shimmer to it. The texture on this was dry! I don't know if I ended up getting a dud but this was horrible to apply. The color is pretty but this is just unusable. I hope it was that shade alone because I think COLOR
sensational
had a really nice color selection compared to the others drugstore brand.

I think you can even tell on the pictures above how dry Petal looks on the lips. Ew.
The smell to Mauve-licious has a hint of vanilla in it while Pink Petal smelled straight up, old ass Wet N' Wild style. Remember those crayon smelling lipsticks? I remember getting Wet N' Wild when I was younger and their lipsticks use to smell like that. Even when wearing both of them I can still smell it, I don't know if most of their line is like that because I haven't owned many drugstore lipstick items in many years but they are rank!
Overall, I think the line has some nice shades if you check it out. I would purchase them at RiteAid or whichever drugstore that allows you to return makeup without hassle. I still think NYX is much superior in the drugstore lines in my honest opinion but I know Maybelline tends to get many BOGOs, so there you go.
Celly