She was heading to my friend's little sister's quince... huh? Don't get lost.
Anywhatever, so I was bored and asked if I can do her makeup since she's really plain about her face or really emo and shit melts everywhere. I'm thinking sometimes, "god... people are going to think I'm doing your makeup with your melty-ass eyes." So I gave her a smokey look, not age appropriate but it's a different approach to what I usually do on her (which is simple or single color application - more age appropriate, one mom can approve).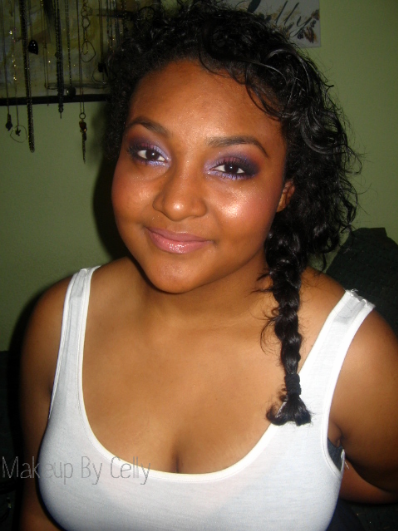 Showing tities and all... sheit, she ain't me!
All she needs is a pole and she's the next Miley Cyrus, actually.
Haha - I need to shut up.



Eyes -

Mac Vellum (inner corner lid), Vibrant Grape (mid lid), Beauty Marked (outer v), Brown Script (crease), Mylar (highlight), Black Track Fluidline, Telescopic Mascara, Wet N Wild Brown Pencil


Face -

Revlon Colorstay Foundation, MAC Cantaloupe (cheek's apple), Fever (contour), Jardin Aires Pigment (highlight)


Lips -

NYX Natural l/g
Celly