...I don't know if I should continue using my old freelance business name (Make Up Misfits) or go under Makeup By Celly? Hm. I have to remake some new business cards since I have to update my contact information and I wanted a new, unique look to my card.
Originally, Make Up Misfits was suppose to be a duo-team with me and my friend but we end up doing our own thing and getting our own "clients"... and well, we're busy in our own lives to even speak to each other. I do like the Make Up Misfits name. Any freelance/professional makeup artist have any suggestions - or my fellow bloggers?
Speaking on my freelance, I did my friend's makeup for a concert she was attending this past weekend. She has really easy features to work with and I used more colors on her then I normally would to match her blouse. Unfortunately, the camera didn't pick up on any of the brightness or lime glitter liner on the lash line. I'm mad about this, actually - it looks so faded and creased but it wasn't. Halle-loo-yer to my mom buying me a new camera for my birthday. Gotta retire Big Bertha's old ass.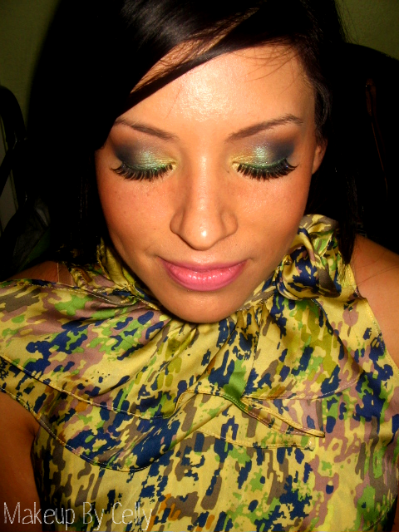 Eyes

- MAC Gorgeous Gold (inner eye), Parrot (mid-lid), Plumage and Blue Green Pigment (outer v), Tete-a-Tine (crease), Mylar (highlight), Lime Glitter Liner and Blacktrack Fluidline.


Lips

- Her own shade


Face

- Nars Foundation, her own blush
Celly