I did a quick stop at the mall yesterday to see this collection (GMLOL) and purchase a thing or two.
There wasn't much I was eying but from the swatches I had seen I really wanted to look into Blooming Lovely lipstick. I've been fascinated with the whole purple/lavender lip thing but never bought anything from the previously released MAC collections - so this was my chance. Plus, I really like the design on the packages and find it cute and girlie. One of my favorites besides the zebra prints in other collections! So check it out while you can...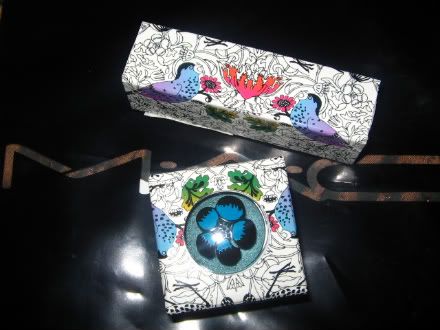 Birds & Berries - I really don't reach for blues often but this one is so pretty and I can definitely pair it up easily with different eyeshadow colors. I can't wait to play with it. I have most blues from the permanent line and I couldn't find a dupe. It did reminded me of Club e/s though, just more blue. In terms of limited edition shades - I have no clue because I don't follow LE products but I'm sure there is a dupe out there because the past 2/3 years MAC has put out a lot of blues in their LE collections. I wanna guess Starflash had something similar?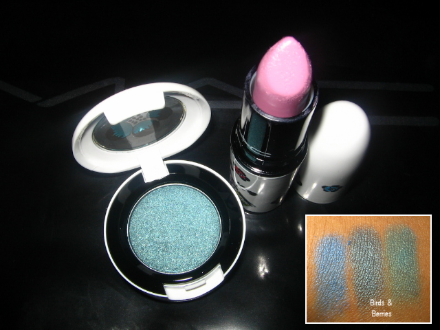 Above, I swatched shadows I believe to be the closest match (which aren't by the slightest) to give you a look at the difference. Far left is Freshwater (a bit brighter), Birds & Berries in the middle and Parrot LE on the far right (a bit lighter in tone and more in the aqua/turquoise family then blue).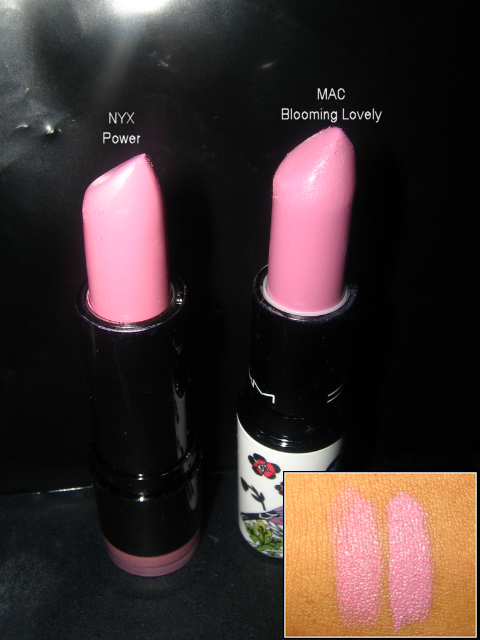 As I said, I went solely to check out Blooming lipstick.
When I swatched it at first - it gave me a pink, cool undertone with that hint of lilac which I assumed would in turn mean more wearable because with my skin tone, I can pull off a lot of lighter shade of pinks easily. But not cool tones, unfortunately. As I tried it on - woooo did I look like I had crack lips! lol. I tried different applications and layers, also lip liners - only way to work with this is to add lip gloss on top to tone it down which to me defeats the purpose of owning the shade if I'm only going to mask it. Ya dig?
I remembered it resembled a lot like my NYX lipstick in Power. And dun dun dun, exact dupe!
Power is slightly more wearable though - and a hell of a lot cheaper! $1.50 US compared to $14.50 US on MAC. Blooming comes off creamy but dries slightly matte whereas NYX are mostly creamy shades. If you're on a budget or your local stand/online sold out - just purchase Power and give a go.
Overall, I see duplicated items from this collection but a lot should be something everyone should own in their personal collections whether they come from Give Me Liberty, other limited editions or the permanent stands.
What are your opinions about the collections - any Likes/Dislikes?
Please share and comment bellow!
Celly