...firstly, thank you all who responded kindly to my previous post on boys.
I am so moving on.
If you're an iPhone owner - I would download the "Feeling Down" app. A lot of inspiring quotes that ring true to all and really made me feel better. Besides that, having really good friends with opening ears and a big appetite help also lol.
Went to H&M on Sunday and casually browsed.
I can't wear high heels for crap. Just can't walk in them so I found these and found them cute for casual wear and to get use to walking in them properly. I'm determine to learn how to walk over 4-inch heels. My friend told me when I complained, "Celia... you need to get the fuck over with and practice wearing them and just fucking do it because you are a girl!" I was about to say, "you have not watched RuPaul's Drag Race. Them male hoochies can WORK it." but instead I said, "yes... yes... I need some Fuck Me pumps." The vulgarity in a simple conversation, right? Haha.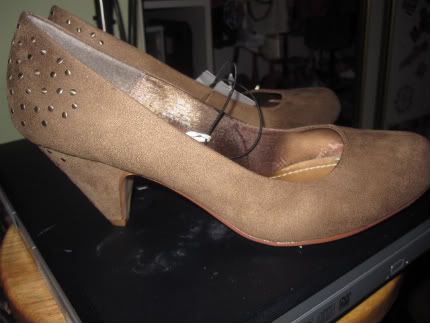 Don't mind my dirty laptop.
The heels are about 2 inches.
Suede finish.
Tan color - they had them in black which looked like a really dark navy to me.
$24.95
Anyone else High Heeled Handicapped like me?
Celly