A little out of the normal beauty reviews but I wanted to share my favorite thing from
Bath & Body Works - concentrated room sprays
!
I had bought some last year when they first came out and this is what they claim:
The simplest way to scent any room in your home
400 hours of amazing scent in each little bottle
Creates a fragrant ambiance in an instant
Perfect to use at home, the office, a hotel room, or any space you wish to fragrance instantly
So true! They last very long with a few sprays. I MUCH prefer them over scented oils or candles. I got my family and some friends hooked. I bought Sensual Amber in October and it's still full. 2-4 sprays in a room and you're done. None of that Febreeze crap that last a few minutes and leave a strong odor.
The price are $5.00 but they often have them on sale for $3.00 each and B&BW are very cool in always having sales and deals so often, so I'd wait for a coupon or these go on sale to save some moolah. Full price is still worth a purchase though.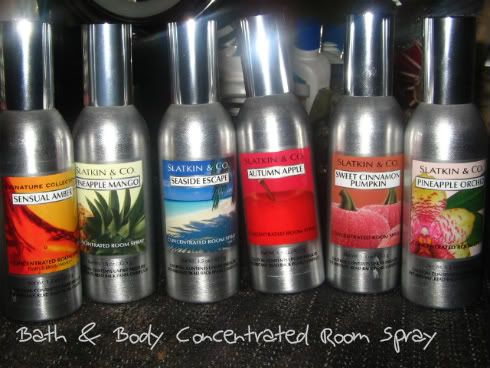 [

L/R -

Sensual Amber, Pineapple Mango, Seaside Escape, Autumn Apple, Sweet Cinnamon Pumpkin, Pineapple Orchid]
Sensual Amber
- This has a light musk, vanilla scent to it. Like the name, it's very sensual and soothing in some way. My parents love this smell besides Fresh Linen (not pictured). When I spray it in my room and leave, the scent stays on me - makes for a nice perfume without putting perfume on lol. I think this was limited though, I haven't seen it at all the B&BW I've been too.
Pineapple Mango
- I like fruity scents so I picked this one up. It's new and yummy! Definitely can smell the pineapple and mango. Mmm. Perfect for the Summer time. It's "sweeter" smelling then Pineapple Orchid though, but they're both similar when sprayed.
Seaside Escape
- Smells just like the beach, beech! Faint coconut smell, a little fresh and sweet too. This is new to my collection. I like it - probably will reach it more during Summer time. I hate coconut smelling stuff but this is tolerable to me. Seriously, I gag at artificial coconut smell. Bleh.
Autumn Apple
- Apple! Smells just like the sweet red apples. Yum. My mom doesn't care for it but if you like apple scented stuff, check this out. I use it as a pick me up, the smell of apple is nostalgic for some reason.
Sweet Cinnamon Pumpkin
- Smells like pumpkin... and cinnamon, fer reals! lol. I used this often (or sensual amber) during winter time. Smells like the pumpkin pies but it's a candy version of pumpkin pies, really sweet - just like the name! oh em gee.
Pineapple Orchid
- Smells like pineapple and the flower but also another light scent, nice mixture. Very sweet but not as sharp as Pineapple Mango.
Not Pictured - But Still Own
Fresh Linen
- Ugh, love this ish. We use it for the living room/bathroom. Smells like what it's called. Very fresh smell, straight out the laundry but not strong. It's tolerable.
Sea Island Cotton
- Smells similar like Fresh Linen but more "airy" - hard to describe these, but kinda like fresh baby powder?
Fresh Bamboo
- Fucking YUCK! I thought it smelled "fresh" at the store but when I sprayed it in my room, it was so strong and smelled liked fake plants. Hate this! Gave me a headache right away. Others might like it but nothing of it was fresh.
What are your favorites?
Celly