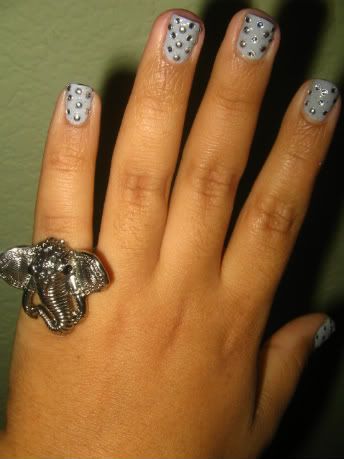 I experimented and did a franken nail polish to achieve the gray color.
Sinful in White and I forgot the OPI color in black and mixed them up, added a bit of black mineral glitter in there and wah-lah! It was a really pretty shade in person, I haven't seen one similar in person.
Then I added some
Nailene
rhinestones to spiff it up.
------------
So it seems the MAC 15 Pan Palette got the most votes, therefor it will be part of the prize. I went last week to the MAC stores and they were all sold out. I guess everyone found out about the price increase and took advantage of that. Since blush was runner up - I'll add that into the mix too. Contest will be posted up next week - hopefully the palette is in stock now.
And you guys, I am so horribly sick. My 4th cold in less then 5 months! This time I got really bad sinuses and now I got a red eye from the pressure of blowing my nose so often and the eye drops didn't help (everyone kept asking if it was pink eye. assholes. no it wasn't! lol). I feel so damn ugly! I hate it. I went to Reno, Nevada this past weekend and I didn't enjoy it much because of the cold. I brought my makeup and couldn't wear it because I had no energy. I really wanted to post some FOTD up too =/ Hopefully this weekend I'll be better... until then, I'm sleeping in.
Should I just do a giveaway or contest?
Giveaway would consist of random picking.
Contest would be a winner based on the topic given.
Celly