So yes, VERY BE-LATED!
I'm STILL sick... my immune system is such an asshole.
It no love me long time no more. Or what nerds say it's an EPIC FAIL.
Anyyoudon'twanttohearmebitchingway, CONTEST TIME!
This is an appreciation to the folks who have followed and took the time to comment on my blog. It's still a growing thing and while I have neglected my poor fella' I have never forgotten so therefor in my way of a thank you, I'm having this little contest/giveaway.
Instructions
On Entering
:
For Followers only. On Blogger or Blog Lovin'

Include your blog link [optional] (I want to check out/follow blogs I haven't seen.)

Include your email for winner notification

Open to any followers around the world

For 1 Entry:

Comment Saying ENTER ME in your most creative way. ex: make me win, trick!

For 2 Entries:

Comment + Announce a post on your blog about my giveaway/contest (you may use the little contest banner to link back!). The announcement doesn't have to be a single post, it may be a mentioning coinciding with your content. Link back to this post.

Please only ONE comment for each person - include either 2 entries into 1 comment. No multiple comments. It'll keep things easier for me, thanks!
Contest Ends

MARCH 4th

, 2010 at 11:00 PM pacific time
Winner Picked At Random

Winner Announced on

MARCH 6th

, 2010

Prizes: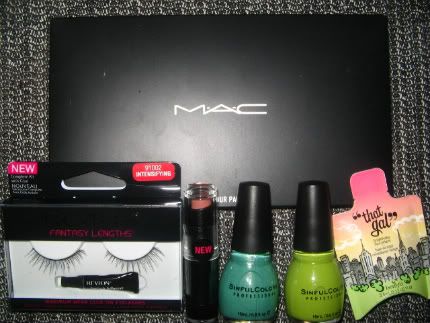 MAC 15 Pan Palette

Revlon False Lashes

2 Sinful NailPolishes

Wet N' Wild Matte Lipstick

Benefit That Gal Sample
Enter away my pretties...
Celly