I went on a lipstick binge and bought some NYX Round Lipstick.
I bought 15 and my total cost was $22 something (including shipping and taxes) - all purchased
here
. MsCuppyCakes has the cheapest prices for Round Lipsticks that I've found so far.
I listed two different swatches - one on my skin and another on paper.
I included a swatch of the other 4 NYX lipsticks I had already owned on the paper swatch.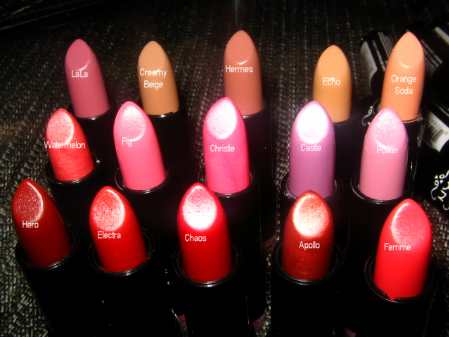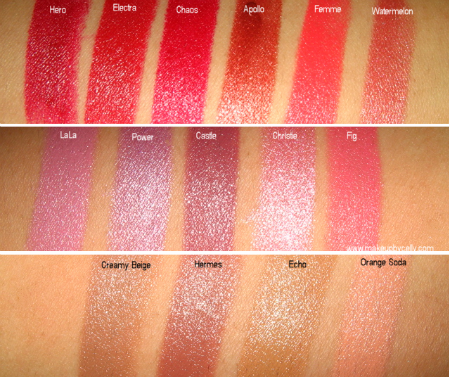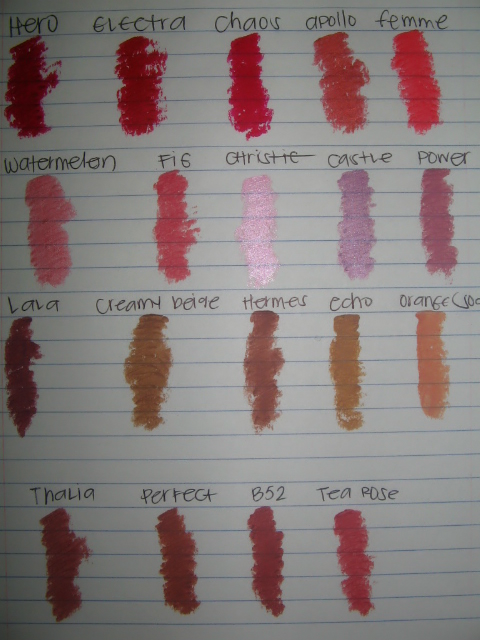 Click to see another swatch of Thalia, Perfect, B52 and Tea Rose.
Stand Outs
Electra (Chaos, Hero are similar)
Fig
LaLa
Power
Echo - is the

perfect

nude for me (I'm NC44/45)
Hermes
Orange Soda - I really liked this but it's bright and suitable but can be toned down and I see it as a great Summer shade

Skip This Sh--
Christie
Apollo
Watermelon
All were a bit sheer and had goldish-shimmer to it which is not flattering at all. I was trying to think what skintone or who it might suit best? Most likely lighter skintone. I guess it's personal preference but I didn't dig the shimmer at all.
Eh
- You's OK
Femme - somewhat a dupe for MAC'S Vegas Volt
Castle - purple/lavendar lipstick fans should check this one out
Creamy Beige
Want to see side by side comparisons or swatches on my lips, etc - let me know.
Celly