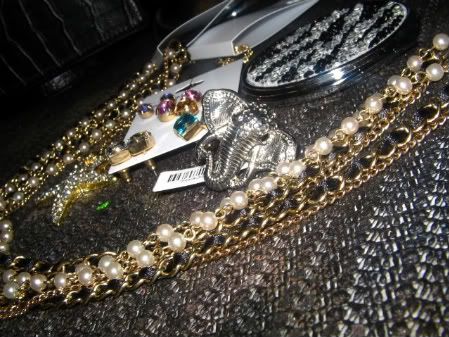 For those who don't know - ForLove21 is the extention of Forever21 and sale accessories only (shoes, purses, jewelry, makeup and intimates) but most of their products can be bought online and

some

at the Forever21 stores.
I love accessories. I'm very simplistic when it comes to jewelry but I love little stand out pieces.
*Prices are approximates - forgot the actual cost.
I had bought some stud earrings in different shades because I love how simplistic they are but yet add a little touch of bling and they are a really nice way to add color to my everyday boring work uniform. Only thing is that they're obviously fake so the base color fades but for $3 bucks - eff it.
The elephant ring was just cute, lol. A little weird but I can dig it. ($4)
The leather chained necklace with pearls is for dressy occasions. Something you can match with anything basically. ($9)
I bought those compact mirrors for my purse - cheap, cute... yeah. ($2/3)
And then I got this star necklace. Reminds me of Summer. I have a thing for nautical things. ($6)