Anyways...
Here's my small little Benefit collection including my two recent purchases.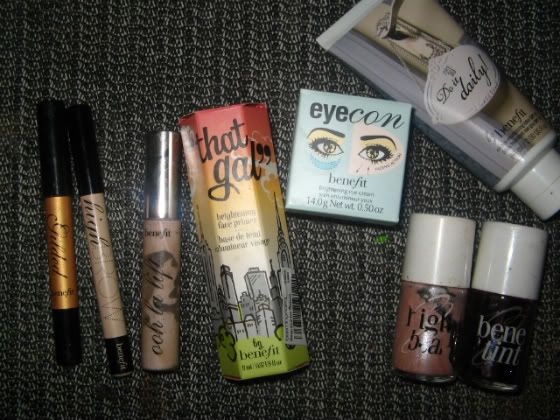 [left to right] [* new - obviously]

Gilded - highlighter, gold shadow pencil thingy
High Brow - brow highlighter
Ooh La Lift - undereye concealer/brightener (almost done)
That Gal* - face primer/brightens
Eyecon* - eye cream
High Beam - highlighter (hella old! ew)
Benetint - blush/lip tint
Do It Daily - moisturizer
I got a lot of highlighters hmm...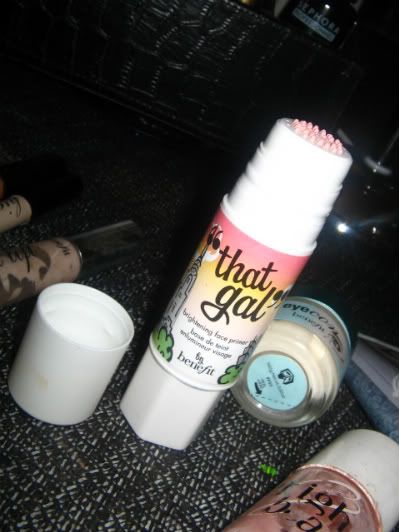 The Good
(This is my first primer that ive used daily and therefor my review is limited, so take advice with caution.) It works well as a primer and I noticed how smooth my skin feels and how much smaller my pores look. I like how it helps with coverage too - without it, foundation goes on more sheer when I need full coverage. With the primer alone, I noticed how my blemishes are lighten a bit. Longevity is good too - last until my midnight workout. No break outs (so far DUN DUN DUN.)
The Bad
I'm not a fan of the packaging. It's a twist up, as shown, and I prefer pumps for sanitary reasons. The brightening part is part of a gimmick tho, well imo - I don't really notice brightening with my makeup on - it's not really something I'm concerned with to be honest.
The SUCIO
Obviously, the price is pretty horrendous. Benefit is one those brands that are overpriced and although their packaging are cute - the products themselves are at best, average. Some are an exception, of course. I probably wouldn't buy it again just based on the price but I wouldn't completely pass it up either.
Now, those sales associates are tricky persuasive little bastards, aren't they? I went to the Benefit counter with my friend because she needed her brows done and I'm on a limited budget...so buying stuff was a no-go
UNTIL
the little evil monkey grabbed me and started a full on makeover on my canvas. Trying to convince me to get waxing done on my brows and they told both of us to do our lips too, I'm thinking... "what you trying to say - I got a moose-tashe?!" - I don't have noticeable fuzz lips tho. Brows. Nah eff that. I enjoy shaping my own brows anyways and that day - they were freshly plucked so obviously they stopped asking when their eyes were bestowed on my beastly beauties.
So this monkey starts on my makeover, right (she's nice but her jumpiness reminded me of those mischievous hoodrat monkeys). She re-dos my brows and uses the little brow kit, yapping about its awesomeness. I'm like, okay cool "wow it does look AWESOME!" to enlightening her. But in my head, when I first saw my brows after she put awesomeness on them (way later in the day), I thought to myself... "WTF, SHE GAVE ME CHOLA EYES". Bitch got me all twisted. I love me some chola eyes but not on me and not in public. The thing with brows is people try to match the exact same color to the hair, which is fine if applied
correctly
but when you have dark/black hair - that's not good. You're suppose to go for a deep brown, a shade a
bit
lighter then your natural hairs. If you match it, you're going to end up looking
mad evil, yo
.
And the thing is, I saw a glimpse of it at the mall and thought - okay, decent. Later in the day after my awesomeness brow were all in everyone's eyesight - did I really take a good look at them and noticed the true horror. Ugh. For all I know my future employer or baby daddy could've seen me and said, "nope to that." I'll stick to my 99 cent Wet N Wild brow pencil ... lesson learned.
Celly