So, like I've posted before... I'm in this nail polish phase. I went to the walgreens the other day because I heard of a "suppose" BOGO. It was in the display section well hidden, so I didn't see after I had made my purchases.
Anyways, I found a brand called "Sinful Colors" for $1.99... they had a really bright colored brand. So from their brand I bought: Dream On, Thimbleberry & Midnight Blue. Then I bought a Milani polish for $3.00 - it was a pretty glitter polish that I thought can be used on the tips of the nail. I bought from their line: Disco Lights.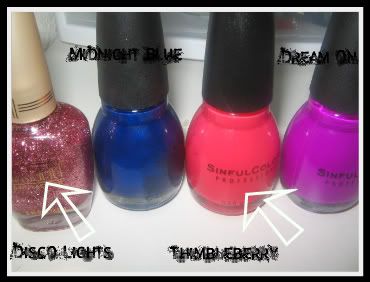 Review -
Milani's Disco Lights:
I like that it's very glittery, and it has served my purpose for it... as an added decoration to my nails. I really hate the strong odor that comes from the polish, but with at least 2 coats, my entire nail was heavily coated.
Sinful Color's Midnight Blue:
The only one I haven't tried yet, so a review will be later posted.
Sinful Color's Thimbleberry:
This caught my eye immediately. It's a bright coral/pink color. It really popped up against my skin, and didn't take very much coats to cover the entire nail. Dried fairly fast and had a good shine at the end. I received compliments from this color. Very great for Summer time and would work with nearly every skin tone, in my opinion.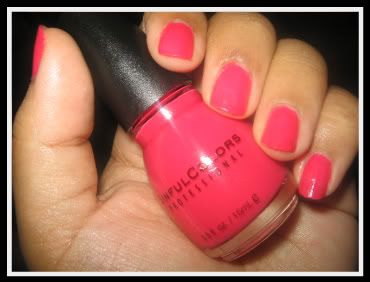 Sinful Color's Dream On:
I had high hopes for this shade. My family kept saying, "ooh what a pretty purple" in the bottle. I'm really disappointed with this. The color is very true to the bottle, (which is true for SC other shades) - it ended up being a very matte or dry looking at the end. Did not have that shiny-gloss effect like it did with Thimbleberry. It looks like I painted my nails with a Sharpie marker, eesh.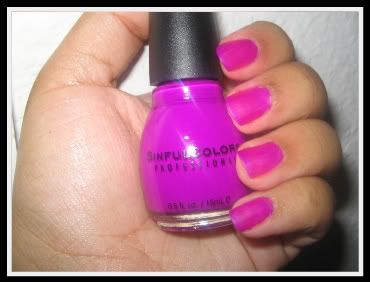 For the price, I would want to purchase more from this brand. I would not recommend SC "Dream On" though. I hope that helped anyone.
Later,
Chola Brolas ;)